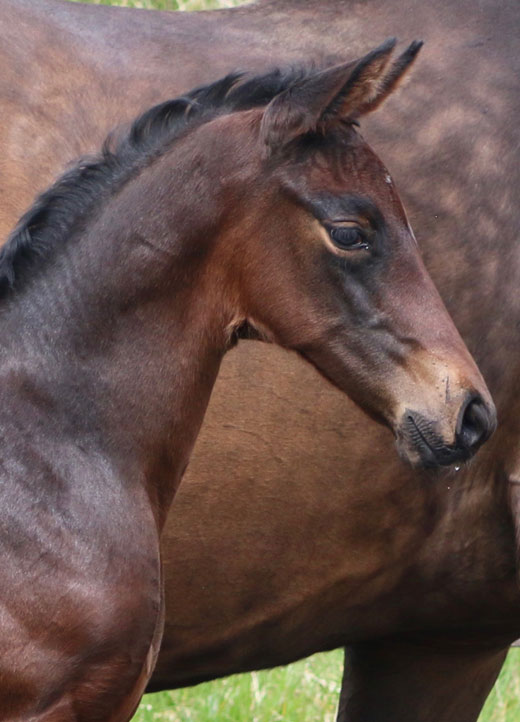 Valiant Caledonia
2020
Colt
Valverde - Welt Hit II - Lochnagarr XX
Dark Bay
Oldenburg
---
We are extremely thrilled with this impressive son of the young Helgstrand star VALVERDE out of our great mare, WHAT A LARK (WELT HIT II / LOCHNAGAR XX).
VALIANT was described by Helgstrand dressage as sublime! He is a beautiful model who is uphill and elastic with great shoulder freedom. We are so excited to watch this gorgeous boy develop in his very exciting new home.
Vitalis
Amicella
Welt Hit II
Palacegate Lady XX
Vivaldi
Tolivia
Ampere
First Fina
Weltmeyer
Cileste
Lochnagar XX
Easy Gal XX
WHAT A LARK is the mother of many successful and beautiful horses some of which have sold to international riders. Her first foal by Don Schufro DON CALEDONIA, is a double national champion on his way to Grand Prix with his international rider Hannah Biggs.
VALVERDE
4th at the WCYH for 5yo 2019
• Won silver at the Bundeschampionate for 4yo stallions 2018
• Champion stallion in Westfalen 2016
His first foals have exceeded the highest expectations. Valverde produced numerous show winners and coveted auction foals
He is always impressive with incredible shoulder freedom and activity which he passes on to his foals. He is relaxed and swinging in his body with a positive expression.
"We have seen a horse with outstanding movement quality here," the judges commented enthusiastically on the presentation of Valverde in 2019 at the German Championships for five-year-old dressage horses. The judges gave 9.5 for his ground-covering walk with "excellent stretching" and for his canter. He received 9.0 for his trot, demonstrating swing, elasticity and power for the hindquarters, and for submission. The general impression was marked 9.5. "The stallion has already showed his talent for collection." Overall score: 9.5. Valverde started his career in 2016 as Westphalian Champion Stallion and the following year completed his stallion performance test in Denmark as the third best dressage stallion with a total score of 9.23 (10.0 for walk, character and conformation). Ridden by Eva Möller, Valverde won the gold medal at the Westphalian Championships and the silver medal at the four-year old German Championships. In 2019, before his victory at the German Championships, he won the Westphalian Championships again and came fourth at the World Championships for young dressage horses with 9.22 (10.0 for walk).