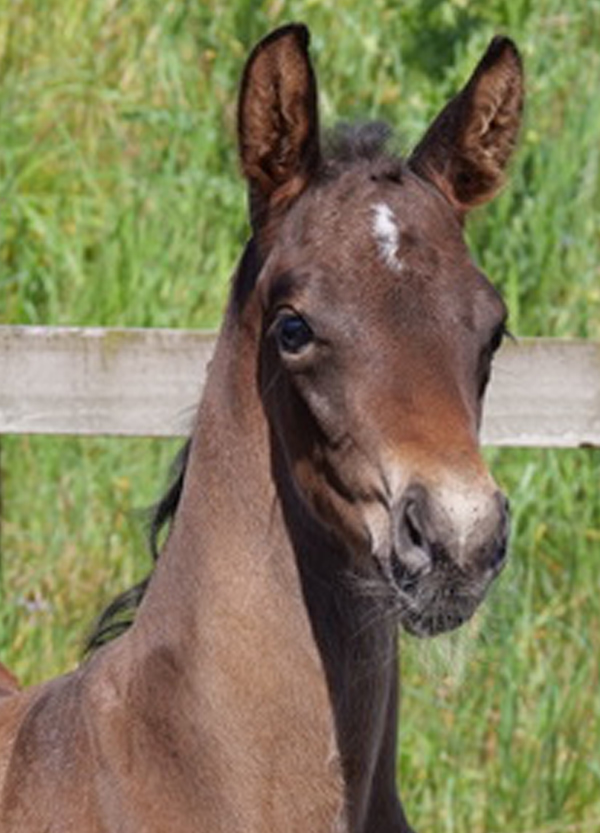 Top Gun Caledonia
2022
Colt
Toto Gold / Uthopia / Negro
Dark Bay
British Hanoverian
---
Glock´s Toto Jr.
Idol
Uthopia 
Weidyfleur
Totilas
Desperada
Apache
Zinith
Metall
Odelia
Negro
Maifleur
We are so lucky to have a mare like U DANCING in our breeding programme. She is a daughter of WEIDYFLEUR II who is one of only two full sisters of the legend VALEGRO. WEIDYFLEUR II is the mother of the impressive stallions U GENIUS (full brother to U-DANCING), INTEGRO and DON VALEGRO. All are showing exciting potential under saddle. With particul;ar talent for the Grand Prix movements. The piaffe and passage of U-GENIUS promise to make him a world class Grand Prix horse.UTHOPIA Team gold medal at the London 2012 Olympic Games where Carl and Uti finished in the top five of the three tests to play a vital role in the historic medal. Team bronze followed the next year at the European Championships in Denmark with Carl producing a 'captain's performance' with Uti.
Uthopia has inherited his sire Ferro's natural activity in the hind leg with a great canter and ride ability –essential in a modern top level dressage horse. As a stallion, Uthopia's character and outstanding ability makes him an obvious sire. His movement is totally natural and has an exceptional extended trot which has earned tens at Championship level.
VALEGRO needs no introduction and rewrites the record books. Valegro is the dressage wonderhorse who, with his rider Charlotte Dujardin, has wowed the world, winning title after title and setting new records in all three types of grand prix. He retired from competition after retaining individual Olympic gold at the Rio 2016 Games.
A dark bay KPWN gelding standing at 16.2hh, his successes include individual and team gold in the 2012 Olympics; individual gold in the 2016 Olympics; the grand prix and grand prix special gold medals at the 2013 and 2015 European Championships; and individual gold at the World Equestrian Games in 2014. At Olympia 2014, he beat his own world record to achieve the highest-ever recorded grand prix freestyle dressage score: 93.4%