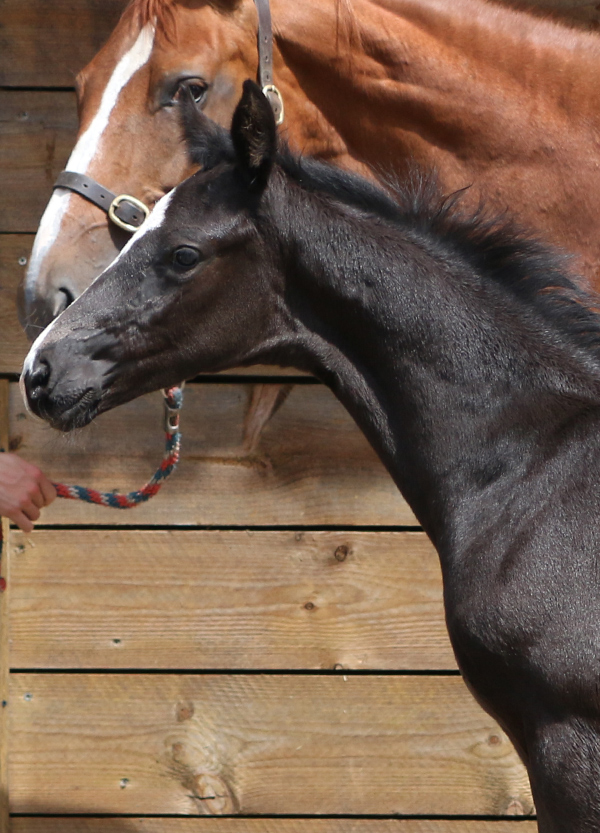 Titan Caledonia
2021
Colt
Totilas - Sir Donnerhall - Don Schufro
Black
Oldenburg
---
We are so proud to write this pedigree and show this beautiful colt who is the third generation of our breeding.
This is the foal I have dreamed of. When I saw TOTAL US (TOTILAS / SIR DONNERHALL / DON SCHUFRO) at the Black Magic tribute to TOTILAS at the KWPN Licensing 2019 I knew I wanted to breed this foal. I thought as Edward Gal described him he was supernatural. Here is our colt as ordered – three white socks and a blaze exactly like TOTAL US. I can't wait to see what the future holds for him.
TOTILAS sons are taking the world by storm and we hope this is the future for this boy.
Gribaldi
Lominka
Sir Donnerhall
Kostolany
Gondola II
Glendale
Elsa
Sandro Hit
Contenance D
Don Schufro
Florentyna
TOTILAS requires no introduction. A legend in his own lifetime, he brought dressage into a new era and set three world records in the process. Known for his fantastic, expressive movement and his harmony with his rider, Totilas is now proving himself as valuable as a breeding stallion as he was a sport horse.
Performance – Totilas was the first horse in history to break the 90% barrier, scoring 90.7% to take home individual and team gold at the 2009 Windsor Europeans. He followed this up with three gold medals at the 2010 Kentucky World Equestrian Games, having also scored 92.3% at Olympia 2009 to set a record that would stand for four years. In 27 appearances at international grand prix with Edward Gal, Totilas scored over 80% on 24 occasions. The pair won three World Cup qualifiers and then the World Cup Final as 's-Hertogenbosch on a score of 89.8%. Under Matthias Rath, Totilas was part of the silver medal-winning team at thr 2011 Rotterdam Europeans and finished fourth individually. On his only appearances against Valegro (at Aachen 2014), Totilas was the undeniable victor; winning both the grand prix and the grand prix special on 82% and 84%.
His mother SUGAR PLUM FAIRY British Dressage Record – 52 starts 42 wins 3 seconds and 2 thirds
A competition and breeding super star. Plum is producing foals of International quality. Five of her six foals so far have sold to International riders. We are profoundly proud of this beauty.
Interestingly, from a breeding point of view, she is SIR DONNERHALL /DON SCHUFRO. This is the much admired breeding on the bottom line of the pedigree's of Fascine, For Romance I and II, Feinrich, Dante US, Total US. Plum is also the full sister of the much admired Scarlett Caledonia.