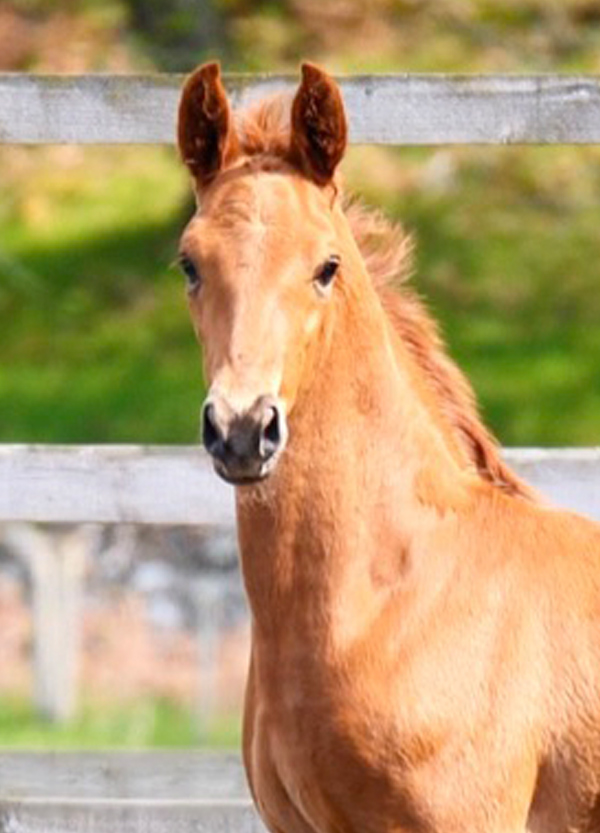 Topaz Hit Caledonia
2023
Colt
Total Diamond - Floriscount - Royal Dance
Chestnut
British Hanoverian
---
A stunning colt from one of the most famous and celebrated motherlines in  the world by the exceptional Schockemohle stallion TOTAL DIAMOND.
His mother, LORETTINA CALEDONIA is half sister to VITAL HIT CALEDONIA OLD of Gestūt Schafhof, Oldenburg Champion Stallion 2022, DANTE"S HIT CALEDONIA Reserve Champion USA National  Material 3 yo, LORNA CALEDONIA hugely excitng mare owned by HP Horses Denmark, FRANKLIN HIT Reserve Champion National UK 4 yo owned by the Eilburg family. SUPER MARIO successful GP with, firstly, Marianne Helgstrand and now Alexander Helgstrand in both Denmark and USA . We have more waiting in the wings with youngsters  also exported to Austria and Australia. What a family!!!!
His grandmother, LORETTA LIVE is a direct daughter of the incredible mare LORETTA, widely claimed to be the most influential mare worldwide in dressage breeding. Her influential sons  are  SANDRO HIT,  DIAMOND HIT  and LORETTA LIVE's full brother ROYAL HIT.
Total Diamond
Lorettina Caledonia
Totilas
Special Diva
Floriscount 
Gribaldi
Lominka
Sir Donnerhall
Die Minelli
Florencio I
Arkona
Royal Dance
Loretta
A wonderful assesment of Lorettina's brother in the Eurodressage report of the Schafhof Stallion Show. https://www.eurodressage.com/2023/05/05/gestut-schafhofs-2023-stallion-show-huge-success 'However, the true star of the evening was Vital Hit OLD. The five-year old chestnut stallion, by the same breeder as Total Caledonia – Reay Campbell – inspired everyone who was attending the stallion show. With his talented and fine rider, Judith Sarda, he literally danced through the indoor arena. There is no doubt: He is one to watch.'
TOTAL DIAMOND
Total Diamond PS's debut as a sire could not have been more successful. His first foals presented themselves as if they all came from the same mould and earned him the Ib main premium in Oldenburg. For the fantastic price of 44,500 euros, his son Total Dance was sold at the OnLive Auction in Westphalia. At the DSP Elite Hybrid Foal Auction, Tumala was sold for 36,000 euros. The knockdown price for Titanium was 32,000 euros. Tizian, whose dam is a half sister of the European Team Champion Annabelle/Helen Langehanenberg, was sold for 22,000 euros. And the Champion Foal in Wernau was also a son of Total Diamond PS. Total Diamond PS was born with the prospect of absolute top-level sport: his sire Totilas was a three-time World Champion and his dam Special Diva was German Champion. With a lot of expression and very active hindquarters, this noble stallion impresses with the highest rideability values. He proved this at his stallion performance test in Schlieckau. His sire Totilas, double gold medallist at the European Championships in 2009 and triple gold medallist at the World Equestrian Games in 2010, fascinated people far beyond the dressage arena. His dam Special Diva was German Champion of three-year-old horses in 2014 with Heiko Klausing and subsequently won dressage competitions with Isabel Freese/NOR. Two of her sons have been licensed: the premium stallion Monterey (by Morricone I) and our stallion Le Special PS (by Lord Europe). Nuit D'or (by Negro), who was sold in 2017 at the P.S.I. Auction, is victorious in young dressage horse competitions, just like Deniron PS (by De Niro). His younger full sister Natascha Diva was also sold in 2018 at the P.S.I. Auction. His grand-dam Die Minelli has also produced stallions: Her son Brilliant (by Bretton Woods) was Champion Stallion in 2014 and won individual silver and gold in the Freestyle at the Junior European Championships in Hartpury/GBR in 2022 with Sophia Boje Obel Jørgensen/DEN. Siebenstein (by Sir Donnerhall I) was sold for over 500,000 euros at the P.S.I. auction in 2011 and is internationally successful in Grand Prix with Mirelle Kemenade-Witlox/NED.
Son of Totilas and the German Champion Special Diva
https://helgstranddressage.com/en/stallions/total-diamond/2907