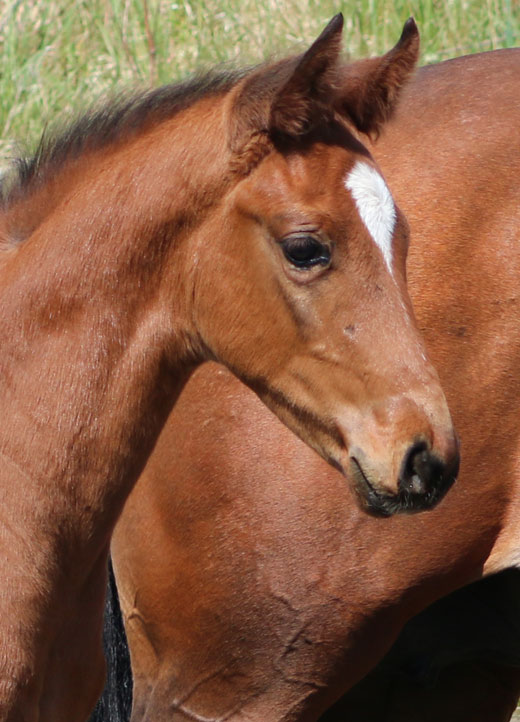 Springsteen Caledonia
2020
Colt
Springbank VH II - Prince Thatch XX - Wenzel I
Bay
Oldenburg
---
SPRINGSTEEN Our rockstar.
Seeing this colt swing into the arena with such presence, charisma and talent, we know we have named him well.
He is a total rockstar ,and so pleased with himself, as well he should be.
He has such energy, presence and rhythm, he takes your breath away.
Skovens Rafael
De La Reinne VH
Prince Thatch XX
Waleska
Romanov
Tazorba
De Niro
Rakel VH
Thatch XX
Petroleuse XX
Wenzel I
St.Pr.St Antonia
Springsteen's father Springbank was described by the incomparable Charlotte Dujardin as the "best 4yo I have ever sat on"
The beautiful foals of SPRINGBANK II VH are rightly described  large framed and lots of energy and are  dominated the shows and auctions.
SPRINGSTEEN'S mother PUSSYCAT is from a renowned German mother line, which has brought great horses to the dressage world. From her direct motherline is the stallion QUATERGOLD currently winning at the Koschel stable in Germany. QUATERHIT the very exciting young Helgstrand stallion is his son.
Pussycat's mother, Waleska, is from the mare, Antonia, who together with her mother, Goldbad, and sister, Antoinette, was the second best family in Germany in 1979. Antonia is the mother of Leitsatz and Lummel who were finalists in the Bundeschampionate. She is, also, the mother of the Grand Prix horse WELTALL/ WELTINO ridden by Ellen Schulten-Baumer and the mother of StPrSt Carmina Burana, who was Bundessiegerstute 1998 –the title of German Champion mare.
PUSSYCAT is the mother of the 2016 National Elementary Champion, MFS French Noir. He was, also Reserve National Champion at Open Novice 2015 and the winner of multiple regional championships with his talented rider Jess Dunn. He is showing great talent for the Grand Prix work.
PUSSYCAT's Sir Donnerhall daughter Seaflower is a winner of the International CCI1* at Blair Horse Trials with the New Zealand International rider James Avery.
Pussycat makes us spectacular foals and we think that this Rockstar, Springsteen, might be just be Pussycat's most exciting foal yet.