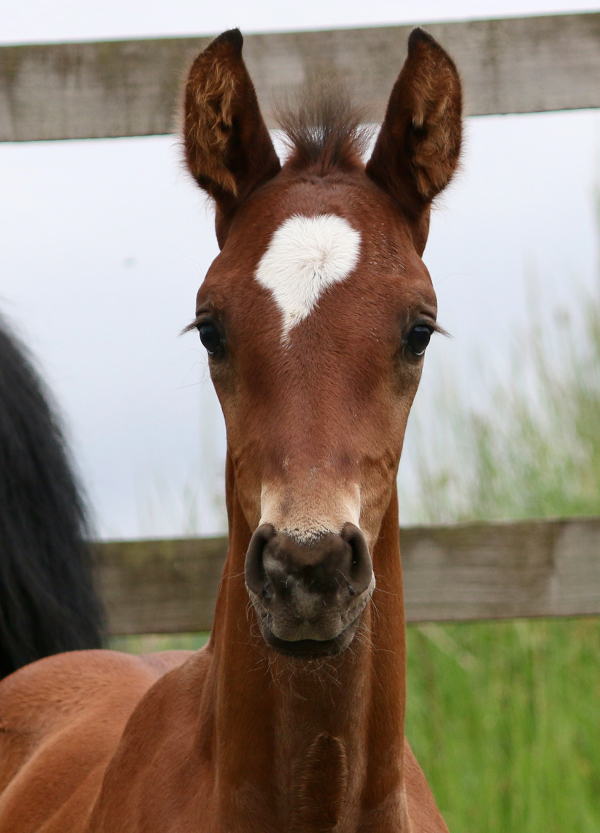 So Caledonia
2021
Colt
So Perfect - Furstenball - Don Schufro
Bay
Oldenburg
---
We are so proud of this super boy who took our breath away the first time we had him in the arena. A true son of his stunning father SO PERFECT (SEZUAN / SIR DONNERHALL), this colt moves like a king with such an uphill way of going demonstrating incredible reach and elasticity.
The big star on his head is an interesting tribute to the great sire, SIR DONNERHALL who is his paternal grand sire.
His mother is our beautiful FAIR CALEDONIA by the FURSTENBALL out of a DON SCHUFRO / WERTHER  mare.
A pedigree with high expectations which has delivered on every level.
Zack
Don Romina
Sir Donnerhall I
Roxana Ra
Furst Heinrich
Maradonna
Don Schufro
Waleska
SO PERFECT (SEZUAN / SIR DONNERHALL)
See below
https://www.youtube.com/watch?v=zJWkGybatvE&list=PLkv_6j89psbdeXoGfQZkjcv43jn5OHiSa
https://helgstranddressage.com/en/stallions/so-perfect/2865
SO PERFECT
The Oldenburg licensing Reserve Champion and Danish premium stallion SO PERFECT also lived up to his name at his stallion performance test in Denmark. Always majestic with his three remarkable paces, this beautiful stallion shone under the saddle with outstanding rideability. For willingness to perform, he was awarded a 10.
SO PERFECT'S first crop of foals is expected in 2021.
His sire SEZUAN was World Champion of the five, six and seven-year-old dressage horses and belongs, without a doubt, to the most demanded dressage stallions of the present. With his rider Dorothee Schneider, he won international competitions up to Inter I. Since then, he has been trained up to Grand Prix level with Patrik Kittel/SWE. On the breeding scene, the Danish Champion Stallion, record stallion performance test winner and Danish Dressage Champion also dominates all events. He sired our two-time record stallion performance test winner Sezuan's Donnerhall, our two-time premium stallion, stallion performance test winner, German Champion and winner of the four-year olds competition at the World Championships for Young Dressage Horses, So Unique, the Vice World Champion and German Champion of young dressage horses, Secret and the bronze medallist at the World Championships for Young Dressage Horses, Queenparks Wendy with Andreas Helgstrand/DEN, to name just a few highlights. A record number of seven of his offspring were selected for the World Championships for young dressage horses in 2020, which had to be cancelled due to the coronavirus pandemic.
SO CALEDONIA's mother is by the living legend FÜRSTENBALL. At every stage of his career, he has showed off his absolutely incredible willingness, strong nerves and relaxed temperament. Every single stride is uphill and his movements swing through his entire body. This wonderful champion stallion demonstrates three elegant and elastic basic paces and natural impulsion, all of which are passed on to his offspring. He was the outstanding winner of his 2009 performance test as well as champion stallion at the Oldenburger licensing in 2008, having sold for the record price of €110,000 as a foal at auction. He was regional and national champion of Germany,  winner of S level dressage classes, 2013 VTV stallion of the year, and number 1 of the FN breeding valuation throughout Germany in 2015.
FÜRSTENBALL's offspring have been sensational. In 2016, he provided the champion and reserve champion stallion of the Oldenburg licensing, and he already has over 40 licensed sons, including Farrell, Follow Me, Finest, Fürsten-Look, For Cruise, and Fürst Fabrice . 14 of his sons have been awarded premiums, and he has 14 state premium daughters. His offspring are just like their sire; Incredibly beautiful models, active movers with a round, connected topline and excellent temperaments.
DON SCHUFRO , the mother's grand sire, needs little introduction but his achievements are second to none. He is a living legend who provides top results. His offspring are renowned for fantastic trainability and a superb hind leg. He is the sire of Weihegold, the current world number one who was winner of Rio Olympic team gold and the individual silver medals. Ten years in a row Don Schufro has ranked  No. 1 in the breeding value estimation in Germany. The next generation WALESKA, carries the wonderful blood of the famous and influential stallion, WERTHER, was a full sister to the stallion WERTHER'S AS.
This is an impressive pedigree and has produced a very impressive future superstar.