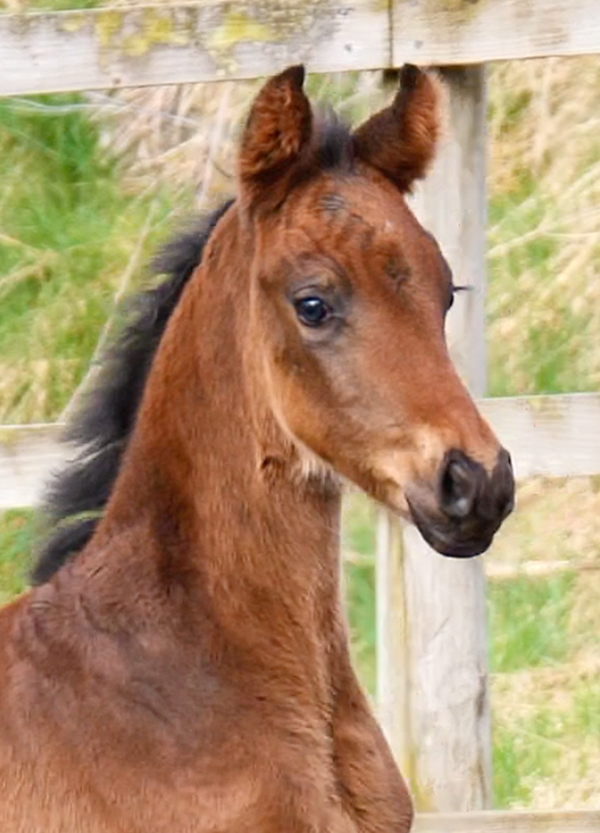 Skye Caledonia
2023
Filly
So Perfect - Ampere - Donnerhall
Bay
British Hanoverian
---
Sezuan
Shakira
Ampere 
Donna
Zack
Don Romina
Sir Donnerhall I
Roxana Ra
Rousseau
Larivola
Donnerhall
Romanze
Premium stallion Danish Warmblood 2020
Oldenburg licensing Reserve Champion 2020
The list of top-price foals by So Perfect is getting longer and longer: With Brix So Special, he produced the 65,000 euro top price in Vodskov/DEN, with Sempre Libre the 62,000 euro top price in Vechta, and Hingsteføllet Strauss was among the most coveted youngsters in Herning/DEN. So Perfect's filly Boney M became Austrian Warmblood Foal Champion in Stadl-Paura/AUT.
In sport, So Perfect made a name for himself at the Danish Championships for five-year-old dressage horses: he received the highest score for canter of the competition with 9.3, 9.0 for trot, 8.8 for rideability and 8.3 for perspective. Already at his stallion performance test in Denmark, the Oldenburg licensing Reserve Champion and Danish premium stallion received ten 8.5s and two 8.0s, which resulted in a total of 8.42 points and victory.
His sire Sezuan was World Champion of five, six and seven-year-old dressage horses and belongs, without a doubt, to the most demanded dressage stallions of the present. With his rider Dorothee Schneider, he won international competitions up to Inter I. Since then, he has been trained up to Grand Prix level with Patrik Kittel/SWE. On the breeding scene, the Danish Champion Stallion, record stallion performance test winner, Danish Dressage Horse Champion, elite stallion and Stallion of the Year in Denmark also dominates all events. He sired Sezuan's Donnerhall, two-time record stallion performance test winner, So Unique, two-time premium stallion, stallion performance test winner, German Champion, winner of the four-year-olds competition at the World Championships for Young Dressage Horses and since then successful in advanced (S) level competitions with Isabell Werth, Secret, Vice World Champion and German Champion of young dressage horses, Joshua, successful in the Burg Cup qualifiers with Isabell Werth, and Queenparks Wendy, bronze medallist at the World Championships for Young Dressage Horses and immediately successful in Grand Prix with Andreas Helgstrand/DEN, to name just a few highlights.
His dam Verb.Pr.St. Shakira is the half sister of the licensed stallion Tout le Monde (by Totilas).
His grand-dam El.St. Roxana Ra is the full sister of Ronda BM/Leonie Bramall/CAN, successful up to Inter I, and half sister of numerous dressage horses.
Oldenburg Reserve Champion Stallion and Danish Premium Stallion