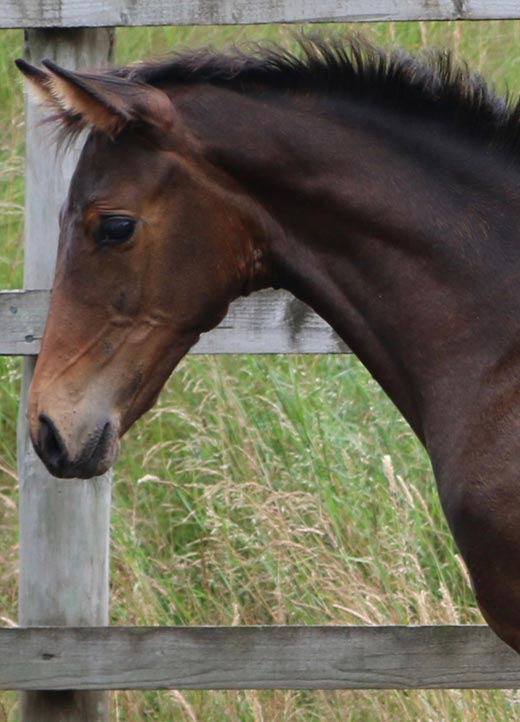 Rock Rose Caledonia
2019
Filly
Revolution - Don Schufro - Friedensherr
Dark brown
Oldenburg
---
This filly is bred in the purple and has the quality, looks and movement to go to the very top.
She is by the sensational Helgstrand stallion, REVOLUTION, the 2018 5 year old World Champion and Reserve 2019 6yo Champion. He is renowned for his breathtaking movement and captivating presence. He was bought with a record winning bid of €1.2 million. Revolution was awarded premium stallion in HANN 2015 and in DWB 2016 as well as champion stallion in DWB 2017. Sovereign winner of DWB's 35-days performance test with a total score of 977,5 points – with no less than seven 10's.
Rocky Lee
Rochelle
Don Schufro
Florentyna
Rock Forever
Juicy
Rouletto
Wachau
Donnerhall
Fiesta
Friedensherr
Easy Gal XX
HORS DON SCHUFRO, a competition and breeding legend.
Don Schufro needs little introduction but his achievements are second to none. He is a living legend who provides top results. His offspring are renowned for fantastic trainability and a superb hind leg. He is the sire of Weihegold, the current world number one who was winner of Rio Olympic team gold and the individual silver medals. Ten years in a row, Don Schufro ranked No. 1 in the breeding value estimation in Germany.
DONNER DANCING's much admired daughter, SUGAR PLUM FAIRY (Sir Donnerhall), is a triple Regional Champion and came 3rd in the National Championships at Elementary and Novice.
DONNER DANCING's Grandsire, FRIEDENSHERR, is by WANDERER, giving this mare the same sought after click of DON SCHUFRO and WANDERER as World Young Horse Champion UNA DONNA UNIQUE and many others.
DONNER DANCING is a ¾ sister to DON CALEDONIA, a double National Champion on his way to Grand Prix with his international rider Hannah Biggs. He is now winning internationally at Inter I and was double 2018  Reserve National Champion behind Charlotte Dujardin at Inter 1 and Inter 1 Freestyle.
FORCE MAJEURE, the son For Romance of DONNER DANCING's  Stedinger half sister SUMMERTIME is a 2018 Oldenburg Licensed stallion. SUMMERTIME was bred at Caledonia from our foundation mare FLORENTYA.
This foal is half sister to GRAND CALEDONIA, ILLUSTRIOUS CALEDONIA, SUGAR PLUM FAIRY, SCARLETT CALEDONIA and blood sister to ROCK ROYALTY CALEDONIA.