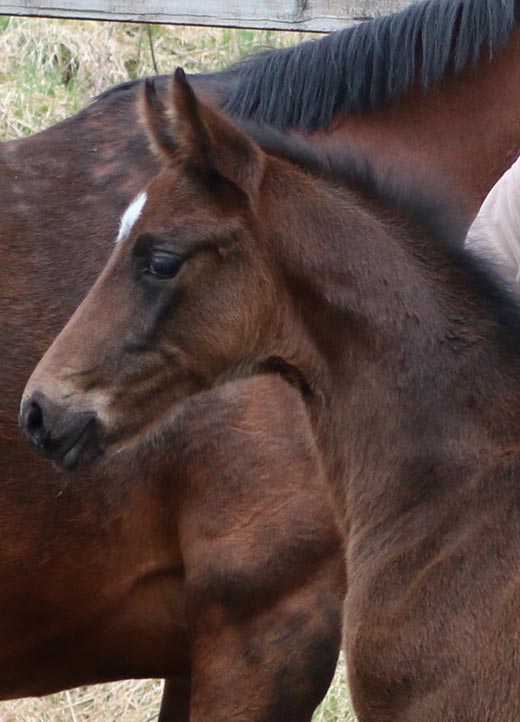 Quintin Caledonia
2018
Colt
Quantensprung - Prince Thatch XX - Wenzel I
Bay
Oldenburg
---
We love this colt as he is elastic, athletic and charismatic, with every pace of great quality. He has a huge ground covering walk inherited from his mother who walks for a 10. He moves through his body showing exceptional elasticity and suspension in every stride.
He is always uphill and athletic with a real engine and an attitude which will give him the forward thinking intention to give his all. He has an outstanding ability to extend and collect within the pace, which can be seen in the video.
Quando-Quando
Donna Laura
Prince Thatch XX
Waleska
Quattro B
St.Pr.St. Schickeria
Donnerhall
Hexentanz
Thatch XX
Petroleuse XX
Wenzel I
St.Pr.St Antonia
This is no surprise as his mother Pussycat is from a renowned mother line, which has brought great horses to the dressage world. From her direct motherline is the stallion QUATERGOLD currently winning at the famous Koschell stable in Germany. QUATERHIT the very exciting young Helgstrand stallion is his son.
Pussycat is a very pretty, athletic mare by the influential PRINCE THATCH xx who brought type and quality to his offspring. Pussycat is renowned for producing foals of great quality.
His sire QUANTENSPRUNG is an instantly impressive stallion; large-framed, with a beautiful head, and in the colour of his damsire, Donnerhall, he catches the eye thanks to his charisma and character. He has been one of the most talked-about stallions in recent years, and we are really excited about him as a stallion for the future. Quantensprung finished his 30-day-performance test with 9.75 points for rideability in the test rider assessment, as well as with highest marks for the basic gaits and temperament.
In 2014, He became best stallion and Bronze medalist at the World Championships of the Young Horses in Verden. In 2016, all seven aspiring stallions from his first year of foals presented at licensings were successful and received the licensing. Three of them were awarded premium in Verden and sold for highest prices.