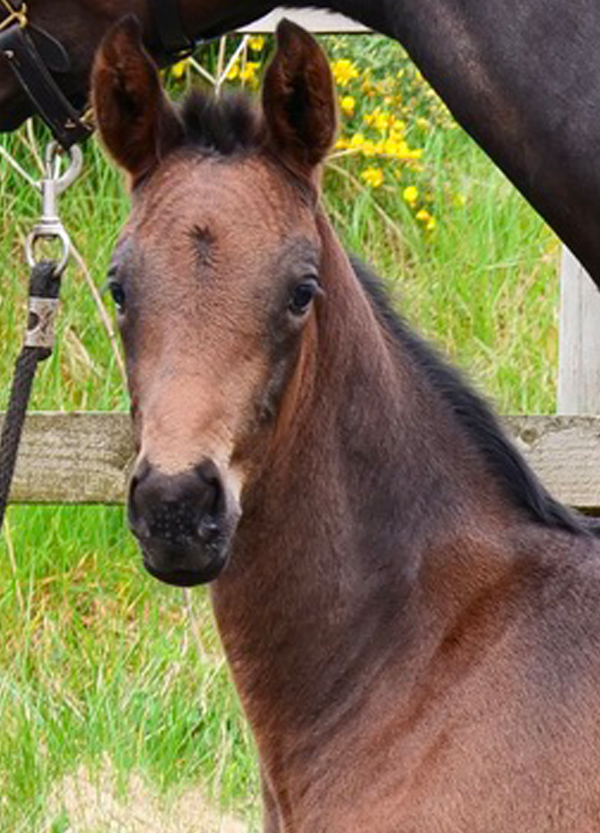 Opal Caledonia
2023
Filly
Opoque - San Amour - Welt Hit II
Dark Bay
British Hanoverian
---
OPAL is a jewel in our collection of foals. This is a third generation of our breeding from our now famous original CALEDONIA motherline. Excitingly, she is by the outstanding young KWPN stallion, OPOGUE, who we spotted early, impressed by his huge shoulder freedom, powerful active hind legs, his beautiful type and his great uphill tendancy and elasticity. Opal is from his first crop of foals and all we can say is WOW!
All at once
Ice Princess STH
San Amour
Ampère
Wynona RB
Davino V.O.D.
Belle Vurona STH
Sandro Hit
Puppenfee
Welt Hit II
Palacegate Lady XX
This filly has already drawn compliments from a very top international breeder who said I quote 'Your filly is spectacular. I love her. Uphill with round muscling. Many congratulations on your breeding programme .' High praise indeed but she deserves it. From the Caledonia  motherline which has burst onto the international stage with the highly regarded TOTAL CALEDONIA 3rd premium at the 2023 Oldenburg Licensing and SHADOW FAIRY CALEDONIA 3rd at Rastede and Bronze medal at the 2023 Bundeschampionat. As well, there are other great horses coming though who we have no doubt will impact on the international stage. This filly belongs in this illustrious group.
OPOGUE
Premium Stallion of the DWB licensing 2022
Premium stallion of the KWPN licensing 2022
Diligence, mechanics, closed frame – Opoque also demonstrates these wonderfully coordinated movement attributes, which made this gem the celebrated premium stallion of his licensings in 's Hertogenbosch/NED and Herning/DEN, under saddle. He was extremely convincing at the 21-day test of the KWPN with his powerful hindquarters and energy in trot and canter as well as his confident stride in walk. With 85.5 points, Opoque was named Reserve Champion: 9.0 for canter, rideability and character, 8.5 for trot, suppleness, natural balance and potential as a dressage horse and 8.0 for walkHis sire All at Once, himself out of the first crop of foals of his sire Ampère, came third at his licensing in Westphalia in 2012. With his rider Yessin Rahmouni/MAR, he started competing in international Grand Prix classes in 2019 and was placed in Exloo/NED, Randbøl/DEN, Le Mans/FRA and Rotterdam/NED. In 2021, the pair took part in the Olympic Games in Tokyo/JPN. Eight sons of All at Once have been licensed so far. His first offspring are already successful in international Small Tour, including Fürst Fabelhaft UZN/Lina Uzunhasan/USA and Jatilinda/Lars van Nek/NED. His dam, the elite mare Ice Princess STH, is the half sister of the dressage horses Jongleur STH (by Expression) and Identity STH (by Charmeur) who were successful up to Inter I level.
His dam's sire Davino V.D.O., who was highly placed at his stallion performance test in the Netherlands with 85.5 points, produced the KWPN Champion Mare from his first crop of foals. Two of his sons have been licensed, including Incognito, who was successful up to Inter I. Davino V.D.O. has a very versatile production, with I'm Here and Ildivo, two 1.50m and 1.40m show jumping horses, respectively, descending from him.
The dressage World Champion Fürst Heinrich and the triple Olympic Champion Valegro's sire Negro also appear in the pedigree.
His great-grand-dam, the elite pref. prest. mare Vurona, who took part in intermediate (M) level dressage competitions, produced the two licensed stallions First Choice (by Jazz) and High Five U.S. (by Charmeur). The latter was Reserve Champion of his stallion performance test in the Netherlands. Her daughter Gorgeous Vurona (by Fürst Heinrich) produced the licensed stallion Viking (by Vivaldi). Her daughter Charming Vurona (by Dreamcatcher), who was successful in intermediate (M) level dressage competitions, produced the KWPN Champion Stallion Knock Out (by Ebony). Vurona is the half sister of the Grand Prix dressage horse Axel (by Sandreo). Dutch dam line 213, breeding family 425. The stallions Adonius (by Apollonios xx), Adonnis (by Gribaldi) as well as the Grand Prix dressage horses Junimond (by Jazz)/Pia Gabriel/AUT, Zodak (by San Remo), Equador VD (by Ampère), Nurona (by TCN Partout) and Markant (by Michelangelo) and the Small Tour horses Corona (by Tuchinski), Gurona (by Charmeur) and Fyeo (by United) also descend from this line. Out of the mare family of the Champion stallion Knock Out
https://helgstranddressage.com/en/stallions/opoque/3455