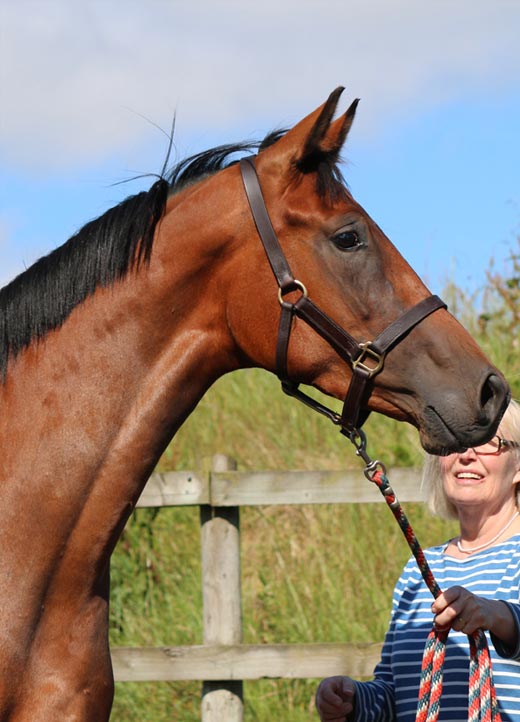 Odd Molly
2014
Mare
Ampere - Donnerhall - Rubinstein
Bay
Swedish Warmblood
---
Molly is the AMPERE daughter of the only full sister to DAMON HILL.
In his time Damon Hill was the greatest dressage stallion competing in the world ,second only to Valegro His illustrious career and  his successes internationally are too numerous to mention.
This wonderful mare , who we imported from Sweden, has highly successful siblings in Europe and we have sold her exceptionally talented foals to professional homes in Germany Ireland and the UK.
We are hugely honoured to have this incredible mare in our breeding programme.
Molly has had exceptional foals by ET which have sold to professional homes in Germany ,Ireland and the UK. She really demonstrates the imortance of a great motherline.
Rousseau
Larivola
Donnerhall
Romanze
Ferro
Zsuzsa
Flemmingh
Farivola
Donnerwetter
Ninette
Rubinstein
Pia
Molly's mother DONNA has been granted Elite status because of the quality of her foals. Molly's siblings include these highly successful
ALLANZO by Zack Represented Sweden at the World Young Horse Championships.
2nd at the Gothenburg Horse Show 7 yo National Swedish Championship
MATILDA Represented Sweden at the World Young Horse Championships.
NOTTING HILL Represented Sweden at the World Young Horse Championships.
Winner of Swedish 6 yo Championships
Training for Grand Prix owned by Hanwell Dressage
Ampere is a noble and elegant stallion an outstanding modern type with the most beautiful head. He has excellent conformation, a beautifully set neck, and shoulder, and an excellent set of limbs all of which he passes to his offspring.
His trot is big and powerful, his canter dynamic, uphill and well balanced. He moves with great selfcarriage, natural balance and suppleness through the body with strong hind legs. All of these qualities he has passed to his lovely daughter.
He was the most expensive foal in Borculo and the run away winner of his 2008 KWPN licensing. Again he won his 70 day performance test with outstanding scores and he was praised as the best horse the test riders had ridden that year.
Of particular interest to us he is the sire of FRANKLIN, the young Helgstrand stallion who we rate so highly at Caledonia.
2023- 
Skye Caledonia (So Perfect) SOLD
2021-
Fynch Hill Caledonia (Fynch Hatton) ET SOLD
Fabian Caledonia (Foundation) ET SOLD
Flavio Caledonia Caledonia (Foundation)
2020-
Freya Caledonia (Foundation) ET SOLD
2019-
Valkyrie Caledonia (Vitalis) ET SOLD
Vice Regal Caledonia (Vitalis) ET SOLD
Flora Caledonia (Foundation) ET SOLD
2018 –
Flavia Caledonia (Foundation) ET SOLD