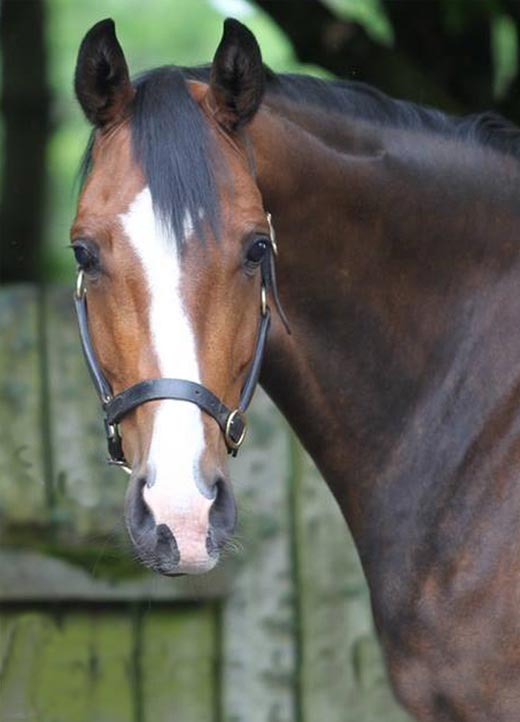 Love Story Star
2010
Mare
Florencio - Donnerhall - Akzent II
Bay
Oldenburg
---
Our beloved LOVE STORY STAR is as charming as she is beautiful. Her foals inherit her immense quality and have sold to international riders in both UK and Europe.
LOVE STORY STAR is a daughter of the Rastede Champion Mare LOVE STORY V.  and granddaughter of the Champion mare LOVE STORY II. This is the only time a mother and daughter have achieved this accolade.
Her sire is the sensational double WORLD CHAMPION, FLORENCIO.
Florencio
St.Pr.St Love Story V
Florestan I
Walessa
Donnerhall
St.Pr.St Love Story II
Fidelio
St.Pr.St Raute
Weltmeyer
Pirelli
Donnerwetter
Ninette
Akzent II
St.Pr.St Love Story
The Love Story family has produced countless Champions, Elite and State Premium Mares, and Premium Stallions and wrote breeding history when she produced the Rastede Mare Show Champion, Love Story II (who later produced the Rastede Mare Show Champion, Love Story V). Numerous successful high level dressage horses have been born from this family. These include Dreamcatcher (who sold for 406,000 euro), La Piko S, Levantino H, Sir Diamond, Saturday, Rubin Extra, Feinbrand, Universal, Don Romantica, Froschkonig, Fürst Wilhelm, Decamerone ( sold for 380,000 euro), Sohn der Sonne,  Furst Wilhelm, Blue Hors Zee Me Blue, Lady Devinja, St.Pr.St. Lady's Flavia, St.Pr./El St. Lady's Nice, El.St. Lady Die, St.Pr/El.St. Lady Diva, Verb.Pr.St. Lady's Donna, Verb.Pr.St. Lady's Dame, St.Pr.St. Etoile and the list goes on.
Her sire, the double WORLD CHAMPION, FLORENCIO created a sensation in his short life and swept everything before him.
Florencio began his sport career as a 4-year old and was the reserve champion at the 2003 BUNDESCHAMPIONAT. In 2004, Hans Peter Minderhoud took over the ride and caused a sensation when he won the WORLD YOUNG HORSE CHAMPIONSHIPS in Verden with a record score of 9.8. They won the PAVO CUP Finals a few weeks later and reclaimed the World Championship title the following year!
Florencio produces offspring with enormous presence, three outstanding paces. His most notable stallion sons are Floriscount, whose first crop of foals dominated the German auctions, including the top lot at Vechta, and Charmeur, the Dutch five-year-old champion. He has numerous offspring competing at Grand Prix.
Florencio is undoubtedly a great gain for the dressage breeding. His unbelievable beauty in conjunction with his naturally light-footed, uphill movements makes him a revelation to every dressage lover. Florencio is a stallion who is bred for dressage from the cream of the crop of stud stallions
His outstanding paces earned him a score of 10 for his walk at his performance test, with a 9.2 for canter and a 9.5 for trot
His Sire FLORESTAN has cemented the reputation of Furioso II as a progenitor for dressage horses, and has been inside the top ten of the WBFSH Sire Rankings for eight consecutive seasons. His licensed sons include Fidermark, Fürst Heinrich (sire of double World Young Horse Champion, Woodlander Farouche), Freestyle and Flores.
His Damsire Weltmeyer won his licensing, his performance test, and was Stallion of The Year 1998.  He has over 70 licensed sons, and his high Breeding Index (152) from the German Equestrian Federation comes with a 99% reliability coefficient.
2023-
Monarch's Gold Caledonia Filly foal by MORRICONE
2022-
Jamesie Caledonia (Jameson RS2) – SOLD
2021-
Love Poem Caledonia (Janeiro Platinum) SOLD
2019-
Spring Caledonia (Springbank) SOLD
2018-
Love Storm Caledonia(Quantensprung) SOLD
2017 –
Love Divine Caledonia(Franklin) SOLD