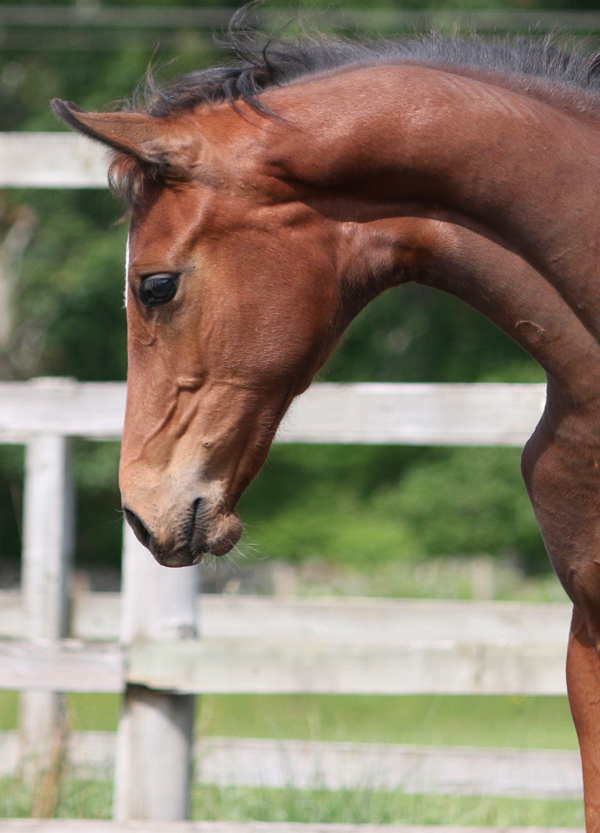 Love Poem Caledonia
2021
Filly
Janeiro Platinum - Florencio - Donnerhall
Bay
Oldenburg
---
We love this very beautiful filly by the young stallion sensation JANERIO PLANTINUM. She combines great beauty with correct conformation.
And the motherline! LOVE POEM's mother is our adored LOVE STORY STAR (FLORENCIO) from the famous LOVE STORY family, being from a daughter of the champion LOVE STORY V and granddaughter of the Champion mare LOVE STORY II.
Sezuan
Black Beauty L. Platinum
Florencio
St.Pr.St Love Story V
Zack
Don Romina
UB 40
Kulia
Florestan I
Waleska
Donnerhall
St.Pr.St Love Story II
This family is known not only for its great success and talent but also their absolute charm.
The Love Story family has produced countless Champions, Elite and State Premium Mares, and Premium Stallions and wrote breeding history when she produced the Rastede Mare Show Champion, Love Story II (who later produced the Rastede Mare Show Champion, Love Story V). Numerous successful high level dressage horses have been born from this family. These include Dreamcatcher (who sold for 406,000 euro), La Piko S, Levantino H, Sir Diamond, Saturday, Rubin Extra, Feinbrand, Universal, Don Romantica, Froschkonig, Fürst Wilhelm, Decamerone ( sold for 380,000 euro), Sohn der Sonne, Furst Wilhelm, Blue Hors Zee Me Blue, Lady Devinja, St.Pr.St. Lady's Flavia, St.Pr./El St. Lady's Nice, El.St. Lady Die, St.Pr/El.St. Lady Diva, Verb.Pr.St. Lady's Donna, Verb.Pr.St. Lady's Dame, St.Pr.St. Etoile and the list goes on.
JANEIRO PLANTINUM Jet black, extremely charming, very modern, offering excellent rideability and with an interesting pedigree – Janeiro Platinum combines everything breeders are looking for. In 2018, he finished his stallion performance test in Denmark with an overall score of 850 points, and with only marks of 8.0 or higher. In 2019, he won the bronze medal at the Danish Championships with the overall score of 90.80 points: 9.2 for trot, 8.5 for walk, 9.0 for canter, 9.5 for rideability and 9.2 for the overall impression.
JANEIRO PLATINUM transmits his excellent type, his correctness and his fantastic quality in all three paces to his foals.
His sire SEZUAN was World Champion of the five, six and seven-year-old dressage horses and is without a doubt one of the most prized dressage stallions of this era. His sons and daughters are in high demand, showing such great talent and gaining such success.
SEZUAN Father's father
http://www.gestuet-peterhof.de/eu-besamungsstation/hengste/elh-sezuan.html
http://www.gestuet-peterhof.de/eu-besamungsstation/hengste/elh-sezuan.html