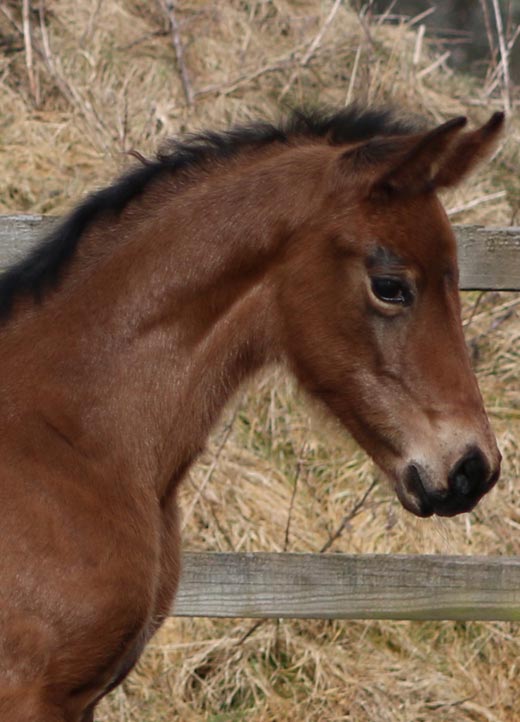 Lorna Caledonia
2018
Filly
Vitalis - Royal Dance - Ramino
Bay
Oldenburg
---
We are so excited to present this amazing filly. A new member of the famous dynasty of LORETTA.
This filly is a direct granddaughter of LORETTA as her mother is one of the few remaining daughters from this legendary mare. Loretta is the mother of Sandro Hit, Diamond Hit and Royal Hit who is the full brother of Loretta Live. LORETTA is one of the most influential mares in the history of warmblood breeding.
Vivaldi
Tolivia
Royal Dance
Elite St.Pr.St Loretta
Krack C
Renate-Utopia
D-Day
Nalivia
Rohdiamant
Petrouchka
Ramino
Lassie
We are so privileged to own our amazing mare LORETTA LIVE. Her son SUPER MARIO is competing Internationally at Inter 1 with Marianne Helgstrand of Helgstrand Dressage. Her daughter Lorance by For Romance is highly successful in Belgium.
Her sire is VITALIS This exceptional stallion is sought-after world wide. Very modern and big moving, Vitalis is in the fast lane in breeding as well as in sport. He has impressed the breeding world with his huge, elastic trot and relaxed, rhythmic canter. He is very rideable, and you never see his rider Isabel Freese without a smile on her face!
We decided to call her Lorna. A fine Scottish name with its origin in the Kyle of Lorne where the Campbell Clan originates. Lorne is a name used very much in our family.