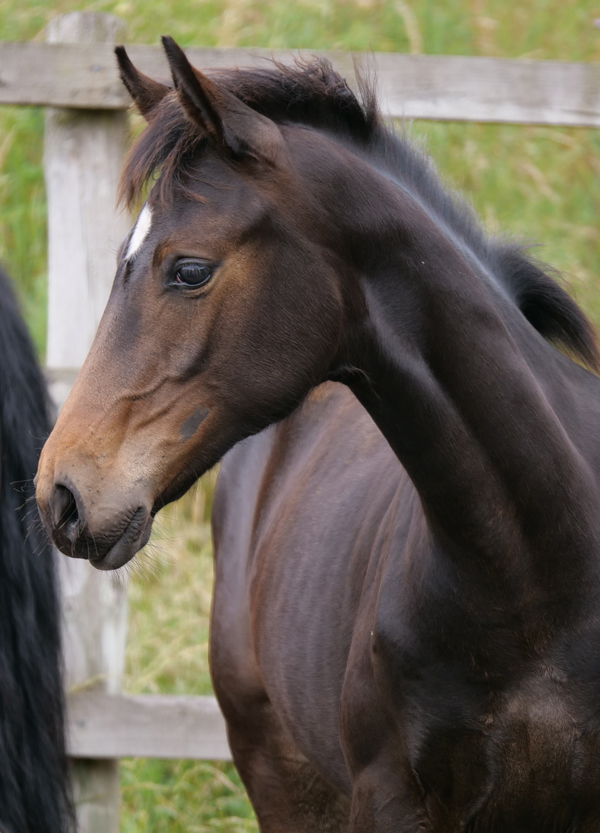 Loretta's Hope Caledonia
2021
Filly
Total Hope - Royal Dance - Ramino
Dark Bay
Oldenburg
---
It is hard to imagine a pedigree with more legends and this gorgeous filly is such an exciting prospect for sport and breeding. She is so beautiful and moves with such elasticity and freedom. She has great presence and really captivated an audience in the arena.
TOTAL HOPE captured our attention with his extraordinary capacity for Dressage at the higher levels as to be expected with his incredible pedigree.  His father is TOTILAS  and his mother WEIHEGOLD. A combination of these two legends with the daughter of the Famous LORETTA  mother of SANDRO HIT and DIAMOND HIT.
An outstanding filly.
Totilas
Weihegold
Royal Dance
Elite St Pr St Loretta
Gribaldi
Lominka
Don Schufro
Weihevoll
Rohdiamant
Petrouchka
Ramino
Lassie
Total Hope
Burg Cup winner and serial winner at Grand Prix level at the age of eight
What a debut. Only half a year after his brilliant victory in the Nuremberg Burg Cup Final in Frankfurt, Total Hope OLD won his first Grand Prix competition in 2020 at only eight years old. And with an exceptional score of 76.491 percent. He then repeated the trick at his two other competitions this season. Without a doubt: Total Hope has inherited the talent for collection from his parents, who are none other than Totilas and Weihegold.
With his triumph in the 2019 Burg Cup, Total Hope OLD was already in a league of his own, ridden by his trainer Isabel Freese/NOR. Commentator Christoph Hess spoke of an equestrian revelation: "Pure potential for collection – at 7 years old! This horse has an aura, a charisma, you can already see the possible future of this prospect Total Hope. A jewel, an equestrian caviar bite that couldn't be better, who has been incredibly well presented. These pirouettes and flying changes, unbelievable to see in the silhouette, a horse can hardly jump higher in flying change."
Previously, the Swedish licensing winner, dressage champion and finalist at the World Championships for young dressage horses (6 y.o.) had won bronze at the World Championships for seven-year-old dressage horses with Isabel Freese/NOR.
Total Hope has produced lovely foals with a lot of natural cadence in movement. The stallion prospect Treasure of Hope was auctioned for 24,000 Euros. Another four of his offspring were sold for high prices through our online auctions.
Total Hope OLD is the result of the crossing between the best mare in the world and the best stallion in the world. His sire Totilas won double gold at the European Championships in Windsor/GBR in 2009 and triple gold at the World Equestrian Games in Lexington/USA in 2010. Furthermore, he was unbeatable at the World Cup Final in 2010 in 's-Hertogenbosch/NED and achieved numerous world record scores.
His dam Weihegold OLD was Oldenburg Champion Mare, winner of the Burg Cup and Louisdor-Prize and, ridden by Isabell Werth, Olympic Gold medallist, triple World Cup winner and triple European Champion.
Totilas x Weihegold! 
Loretta
A direct granddaughter of the famous LORETTA, she represents an incredible and rare opportunity as a breeding and competition prospect.
She is from breeding royalty and is out of LORETTA LIVE, one of the last remaining daughters of the famous LORETTA, the breeding legend who is the mother of SANDRO HIT and DIAMOND HIT. Uniquely, these two famous stallions ranked in the World Breeding top ten stallions.
LORETTA is one of the most influential mares in the history of warmblood breeding.
We are so privileged to own our amazing mare LORETTA LIVE. Her son SUPER MARIO is competing Internationally successfully at Grand Prix with Marianne Helgstrand of Helgstrand Dressage.
The foals of our wonderful LORETTA LIVE are simply world class and have sold to top international homes in Germany, Denmark, USA and England.