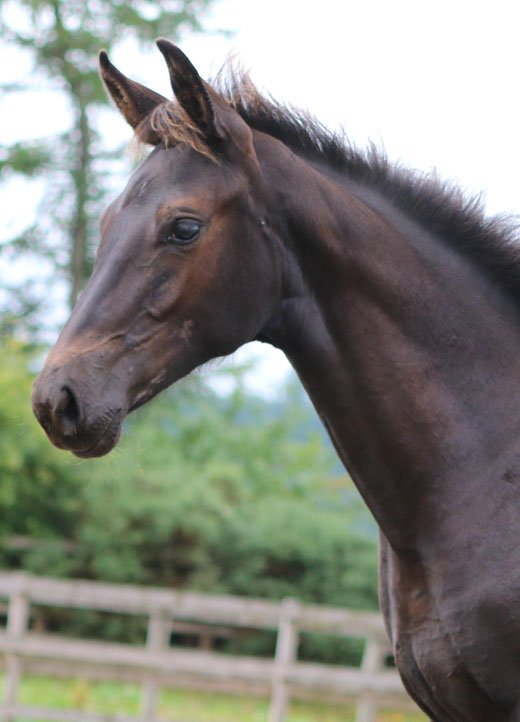 Lady Fleur Caledonia
2020
Filly
Lord Leatherdale - Uthopia - Negro
Black
Oldenburg
---
An exciting filly from the famous motherline  of the legend that is VALEGRO. This is a daughter of the UTHOPIA daughter of VALEGRO'S full sister WEIDYFLEUR II.  Her sire LORD LEATHERDALE is the sire of the World Champion GLAMOURDALE and is famous for crossing so well with Negro and Ferro.
Lord Loxley I
Fairless P
Uthopia 
Weidyfleur II
Lord Sinclair I
Weltlady
Ferragamo
Alma
Metall
Odelia
Negro
Maifleur
This filly is totally charming and looks more than a bit like a girl version of VALEGRO himself. Built for Grand Prix and with a personality to match. Athletic, charismatic and beautiful. This pearl is most exciting prospect for breeding and competition.
We are so lucky to have a mare like U DANCING in our breeding programme. She is a daughter of WEIDYFLEUR II who is one of only two full sisters of the legend VALEGRO. She is the mother of the impressive stallions U GENIUS (full brother to U DANCING), INTEGRO and DON VALEGRO. All are showing exciting potential under saddle.
VALEGRO needs no introduction and rewrites the record books. Valegro is the dressage wonderhorse who, with his rider Charlotte Dujardin, has wowed the world, winning title after title and setting new records in all three types of grand prix. He retired from competition after retaining individual Olympic gold at the Rio 2016 Games.
His successes include individual and team gold in the 2012 Olympics; individual gold in the 2016 Olympics; the grand prix and grand prix special gold medals at the 2013 and 2015 European Championships; and individual gold at the World Equestrian Games in 2014. At Olympia 2014, he beat his own world record to achieve the highest-ever recorded grand prix freestyle dressage score: 93.4%.
UTHOPIA Team gold medal at the London 2012 Olympic Games where Carl and Uti finished in the top five of the three tests to play a vital role in the historic medal. Team bronze followed the next year at the European Championships in Denmark with Carl producing a 'captain's performance' with Uti.
Uthopia has inherited his sire Ferro's natural activity in the hind leg with a great canter and ride ability –essential in a modern top level dressage horse. As a stallion, Uthopia's character and outstanding ability makes him an obvious sire. His movement is totally natural and has an exceptional extended trot which has earned tens at Championship level.
LORD LEATHERDALE is an honest, diligent and reliable stallion. Sire of the extraordinary Glamourdale the 2018 World 7 yo Champion.
He has many approved sons including Chippendale, the 2012 Stallion testing champion Everdale, the 2013 Stallion testing champion Fairytale and the 2014 Stallion Show champion Glamourdale