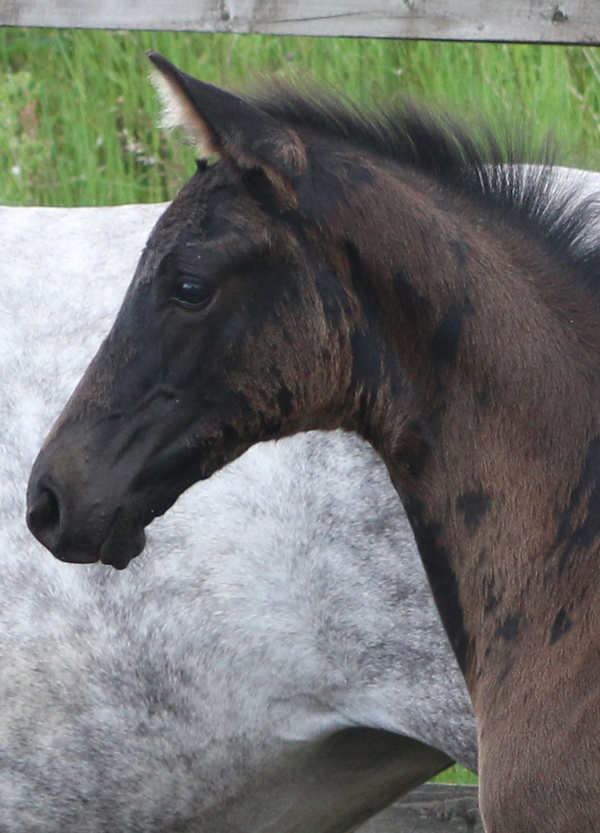 Joker Caledonia
2021
Colt
Jovian - Uthopia - Negro
Dark Bay
Oldenburg
---
This athletic and charming colt has a pedigree littered with World Champions. By the breathtaking Helgstrand stallion JOVIAN from the UTHOPIA daughter of VALEGRO's full sister.
Such an exciting pedigree with the incomparable JOVIAN combined with one of the best motherlines in the world. 
Andreas Helgstrand says of JOVIAN 'I think he has everything for the future, and you will see this horse at the Olympic Games one day, and he will go for gold. That's my opinion.'
'this is an honour for me. (I) never had that feeling on any horse  before. For me, It's just a one of a kind'
Apache
Zinith
Uthopia
Weidyfleur II
UB 40
Tolanda
Tango
Minou
Metall
Odelia
Negro
Maifleur
We are so lucky to have a mare like U DANCING in our breeding programme. She is a daughter of WEIDYFLEUR II who is one of only two full sisters of the legend VALEGRO. WEIDYFLEUR II is the mother of the impressive stallions U GENIUS (full brother to U-DANCING), INTEGRO and DON VALEGRO. All are showing exciting potential under saddle. With particul;ar talent for the Grand Prix movements. The piaffe and passage of U-GENIUS promise to make him a world class Grand Prix horse.UTHOPIA Team gold medal at the London 2012 Olympic Games where Carl and Uti finished in the top five of the three tests to play a vital role in the historic medal. Team bronze followed the next year at the European Championships in Denmark with Carl producing a 'captain's performance' with Uti.
Uthopia has inherited his sire Ferro's natural activity in the hind leg with a great canter and ride ability –essential in a modern top level dressage horse. As a stallion, Uthopia's character and outstanding ability makes him an obvious sire. His movement is totally natural and has an exceptional extended trot which has earned tens at Championship level.
VALEGRO needs no introduction and rewrites the record books. Valegro is the dressage wonderhorse who, with his rider Charlotte Dujardin, has wowed the world, winning title after title and setting new records in all three types of grand prix. He retired from competition after retaining individual Olympic gold at the Rio 2016 Games.
A dark bay KPWN gelding standing at 16.2hh, his successes include individual and team gold in the 2012 Olympics; individual gold in the 2016 Olympics; the grand prix and grand prix special gold medals at the 2013 and 2015 European Championships; and individual gold at the World Equestrian Games in 2014. At Olympia 2014, he beat his own world record to achieve the highest-ever recorded grand prix freestyle dressage score: 93.4%
JOVIAN 
https://helgstranddressage.com/en/stallions/jovian/2289
Won gold at the WORLD YOUNG HORSE CHAMPIONSHIP for 5yo 2019
Winner of the sport test in Münster Handorf 2019
Premium Stallion in Danish Warmblood 2018
Won the Dutch Championships for 3yo 2017
Four times, the score of 10 was awarded to the World Champion of five-year-old dressage horses, our KWPN stallion Jovian in 2019. "What a fantastic mover! The trot – so elastic, so much spring and suspension and even with the huge amount of airtime, he still matched between front and back, always in balance and with perfect cadence. The canter is well-balanced, always uphill and so fluent. Jovian is a display of pure self-carriage and suppleness, with an equal contact in both reins" was the enthusiastic comment of the judges. With an overall score of 9.66, Jovian was unbeatable with his rider Andreas Helgstrand/DEN.
In 2020, Jovian was also in the World Championships selection for the Netherlands, as he is Dutch bred. However, due to the coronavirus pandemic, this prestigious championship had to be cancelled.
In 2017, Jovian won the three-year-old Dutch Championships. In 2018, he won his sport test in Verden with a score of 9.01, was named premium stallion at the Danish licensing and secured silver at the Dutch Pavo Cup. In 2019, as well as his gold medal at the World Championships, he also won the silver medal at the Danish Championships.
Jovian's foals are also real high-flyers. At the German Foal Championships in Lienen, he produced two finalists. Jovian's offspring were also regularly show and auction highlights.
His sire Apache was the KWPN Reserve Champion in 's-Hertogenbosch/NED and outstanding winner of the stallion competition in winter 2011/12. Ridden by Emmelie Scholtens, Apache joined the Dutch Olympic squad in 2015. In 2018, he was part of the Dutch team placed fifth at the World Equestrian Games in Tryon/USA. The following year, he came eighth in the World Cup Final in Gothenburg/SWE. 2019 was also the year in which this undoubtedly highly sought-after stallion unexpectedly passed away. Amongst his numerous licensed stallions, our champion producer stallion Kastel's Grand Galaxy Win particularly stands out.