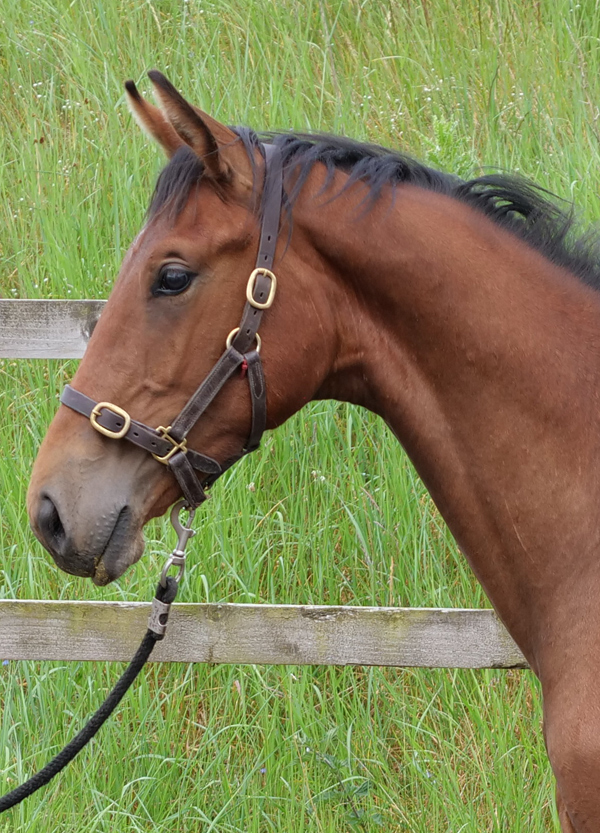 Jester Caledonia
2021
Gelding
Jovian - Furst Heinrich - Grande
Bay
Oldenburg
---
This is a worthy son of the great champion JOVIAN and we are very excited about him.
At four weeks old, he is tall uphill oozing presence, loose moving with power and elasticity. We love this big boy. He has a charming engaged and bold temperament. An absolute delight. We think his future is very bright.
Andreas Helgstrand says of JOVIAN 'I think he has everything for the future, and you will see this horse at the Olympic Games one day, and he will go for gold. That's my opinion.'
'this is an honour for me. (I) never had that feeling on any horse  before. For me, It's just a one of a kind'
Apache
Zinith
Furst Heinrich
St.Pr.St Granny
UB 40
Tolanda
Tango
Minou
Florestan I
Dawina
Grande
St.Pr.St Arkade
JOVIAN
• Won gold at the WORLD YOUNG HORSE CHAMPIONSHIP for 5yo 2019
• Winner of the sport test in Münster Handorf 2019
• Premium Stallion in Danish Warmblood 2018
• Won the Dutch Championships for 3yo 2017
Four times, the score of 10 was awarded to the World Champion of five-year-old dressage horses, our KWPN stallion Jovian in 2019. "What a fantastic mover! The trot – so elastic, so much spring and suspension and even with the huge amount of airtime, he still matched between front and back, always in balance and with perfect cadence. The canter is well-balanced, always uphill and so fluent. Jovian is a display of pure self-carriage and suppleness, with an equal contact in both reins" was the enthusiastic comment of the judges. With an overall score of 9.66, Jovian was unbeatable with his rider Andreas Helgstrand/DEN.
In 2020, Jovian was also in the World Championships selection for the Netherlands, as he is Dutch bred. However, due to the coronavirus pandemic, this prestigious championship had to be cancelled.
In 2017, Jovian won the three-year-old Dutch Championships. In 2018, he won his sport test in Verden with a score of 9.01, was named premium stallion at the Danish licensing and secured silver at the Dutch Pavo Cup. In 2019, as well as his gold medal at the World Championships, he also won the silver medal at the Danish Championships.
Jovian's foals are also real high-flyers. At the German Foal Championships in Lienen, he produced two finalists. Jovian's offspring were also regularly show and auction highlights.
His sire Apache was the KWPN Reserve Champion in 's-Hertogenbosch/NED and outstanding winner of the stallion competition. 
JESTER's mother FURSTIN PRESSIONS is a rare and precious daughter of the sensational stallion, FURST HEINRICH who was well on his way to stardom before his life was sadly cut short at age seven. Awarded a Premium Stallion at the NRW Licensing in 2000, he then went on to become Champion of his Performance Test in Münster-Handorf with a Dressage score of 8.82. In 2002 he was a Main Premium winner at Oldenburg. Qualifying for the Bundeschampionship with a score of 8.5, he then competed successfully in his class and came 2nd in the Final.
As a five year old in 2003 he was crowned World Dressage Champion,
FURSTIN PRESSIONS is the mother of double National Champion and 2016 Olympic Para reserve SWEET CALEDONIA, ridden by Natasha Adkinson. She was Paralympic Reserve for Rio having been on Lottery Funded World Class training programme for horses with International Potential and has represented Britain from the age of six!
FURSTIN PRESSIONS' dam is a full sister to the grand dam of DER CLOU and the beautiful licensed stallion SAN BERNADINO. The international Grand Prix stallion DER CLOU competed for the Portuguese team in the World Equestrian games 2014 and the 2015 Europeans ridden by the Portuguese rider Filip de Cantelas Pinto. This damline has brought sport horses in both disciplines successful up to Grand Prix.