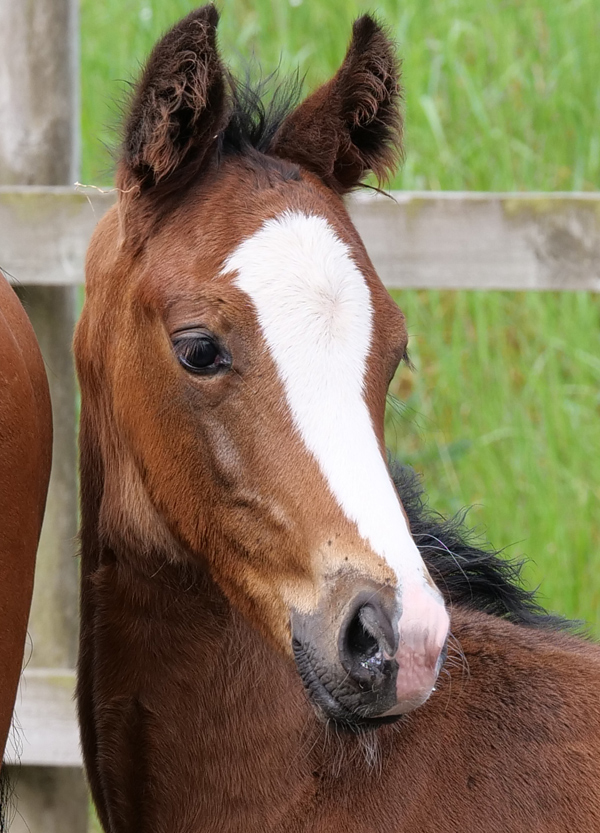 Jaguar Caledonia
2022
Colt
Jameson RS2 / Prince Thatch XX / Wenzel
Bay
British Hanoverian
---
Meet JAGUAR.  PUSSYCAT always produces an athlete, and the combination of her and JAMESON looks pretty spectacular. Like his father, he is built uphill with a fantastic canter and trot. He has inherited PUSSYCAT's outstanding walk and the most beautiful head.  He has the most charming, bold, enthusiastic, delightful temperament which will make him a rewarding and trainable competition horse who will be huge fun to own.
Zack
Atlinda M
Prince Thatch XX
Waleska
Rousseau
Orona
Negro
Tilinda M
Thatch XX
Petroleuse XX
Wenzel I
St.Pr.St Antonia
JAMESON RS2 is an honest, sensible stallion with a work ethic and positive work attitude according to the KWPN Breeding advice
His movement in trot has a lot of action and covers ground, with a lot of self-carriage. The canter is imposing, very powerful, uphill, with self-carriage and very good ground covering strides. Jameson RS2 moves with a lot of flexibility, attitude and balance, with a lot of power to change tempo. Jameson RS2 has a lot of talent and gives the rider a positive feel.
Jameson RS2 and Marieke van de Putten have had a have phenomenal scores in 2018 and early 2019 stallion competitions for 4-year-old Dressage horses, winning all of these dressage stallion competitions.
KWPN Finals for 4-year-olds, Den Bosch-91 points
KWPN qualifier, Zuidbroek-93 points
KWPN qualifier, Ermelo-94 points
KWPN qualifier De Peelbergen-90 points
Performance Champion–90 points
Winner Pavo Cup
As three-year-old, Jameson RS2 won the Championship at the Den Bosch Stallion Inspection and selected for the KWPN performance test, after which he wrote his name on the Pavo Cup with Marieke van der Putten.
His father is Blue Hors Zack (v. Rousseau) who also was the Champion at Stallion Inspection.
He is also the sire of the triple world champion Sezuan who has also been a sire of his own dynasty of successful horses both in competition and breeding. Successful in his ridden career,  Zack can call himself the best active breeding stallion of the Tokyo Olympic Games!
PUSSYCAT is a very pretty, athletic mare by the influential PRINCE THATCH xx who brought type and quality to his offspring. Pussycat is renowned for producing foals of great quality.
This is no surprise as Pussycat is from a renowned mother line, which has brought great horses to the dressage world. From her direct motherline is the stallion QUATERGOLD currently winning at the famous Koschell stable in Germany. QUATERHIT the very exciting young Helgstrand stallion is his son.
Pussycat's mother, Waleska, is from the mare, Antonia, who together with her mother, Goldbad, and sister, Antoinette, was the second best family in Germany in 1979. Antonia is the mother of Leitsatz and Lummel who were finalists in the Bundeschampionate. She is, also, the mother of the Grand Prix horse WELTALL/ WELTINO ridden by Ellen Schulten-Baumer and the mother of StPrSt Carmina Burana, who was Bundessiegerstute 1998 –the title of German Champion mare.