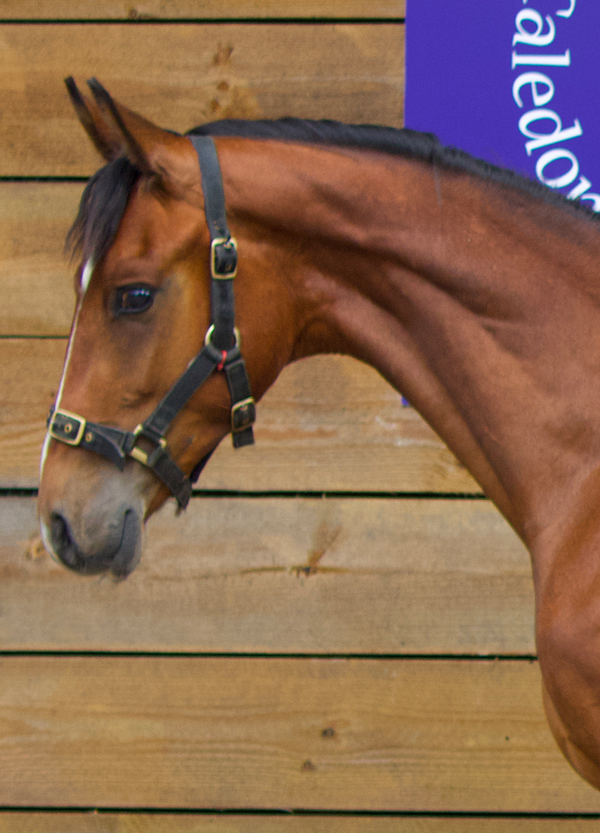 Jacobean Caledonia
2020
Gelding
Janeiro Platinum - Sandro Hit - Akzent II
Bay
Oldenburg
---
We are very excited about this unbelievably, beautiful gelding by the young stallion sensation JANERIO PLANTINUM and from the powerful LOVE STORY  mother line. He combines great beauty with correct conformation. He has three elastic, quality gaits displaying swing, cadence and the beautiful lightness would be expected from this wonderful pedigree. He has three excellent gaits with the shoulder freedom, knee action and super hind leg. He moves powerfully uphill with a super lightness and balance. All this in the most perfect modern model.
Sezuan
Black Beauty L. Platinum
Sandro Hit
St.Pr.St Love Story II
Zack
Don Romina
UB 40
Kulia
Sandro Song
Elite St.Pr.St Loretta
Akzent II
St.Pr.St Love Story
JANERIO PLATINUM and foals have taken the internet by storm and this boy it utterly outstanding. Who can say it better than Andreas Helgstrand to describe Janeiro Platinum 'Super, super pretty and the foals look super promising. Amazing foals. You get the knee, front leg shoulder freedom and three excellent gaits. Quick mechanic, pretty neck,great legs and hooves. He is willing to work and do the best for the rider.
And the motherline! To top all this off Jacoebean's mother is from the famous  LOVE STORY family, being from the direct line of the Champion mares LOVE STORY II and LOVE STORY V.
The dam LOVE SONG by SANDRO HIT  is the direct daughter of the famous Rastede champion mare LOVE STORY II. LOVE SONG's sister is the champion mare LOVE STORY V. This is the only time this honour has gone to a mother and daughter. The famous LOVE STORY family has produced over 35 licensed stallions, countless state premium mares and highly successful competition horses.
JANEIRO PLANTINUM Jet black, extremely charming, very modern, offering excellent rideability and with an interesting pedigree – Janeiro Platinum combines everything breeders are looking for. In 2018, he finished his stallion performance test in Denmark with an overall score of 850 points, and with only marks of 8.0 or higher. In 2019, he won the bronze medal at the Danish Championships with the overall score of 90.80 points: 9.2 for trot, 8.5 for walk, 9.0 for canter, 9.5 for rideability and 9.2 for the overall impression.
JANEIRO PLATINUM transmits his excellent type, his correctness and his fantastic quality in all three paces to his foals.
His sire SEZUAN was World Champion of the five, six and seven-year-old dressage horses and s without a doubt, to the most demanded dressage stallions of the present.
SANDRO HIT WORLD CHAMPION Mother's father
https://schockemoehle.com/ger/deckstation/deckhengste/sandro-hit.html
SEZUAN Fathers father
http://www.gestuet-peterhof.de/eu-besamungsstation/hengste/elh-sezuan.html
Mother's father
http://www.gestuet-peterhof.de/eu-besamungsstation/hengste/elh-sezuan.html