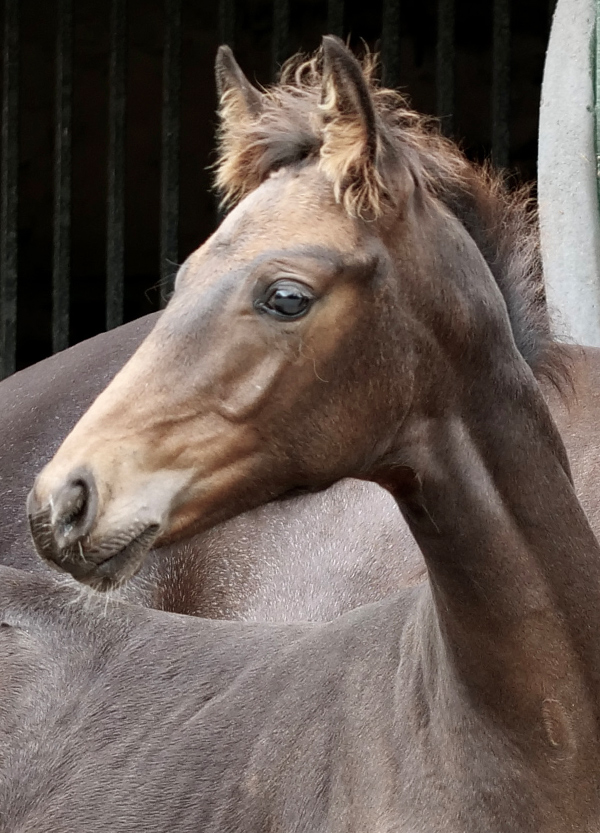 Glenmorangie Caledonia
2021
Colt
Glamourdale - Sir Donnerhall - Don Schufro
Dark Bay
Oldenburg
---
A stunning colt with a super pedigree, talented movement and the great Highland name of the world renowned whisky which is made close to our farm. 
This boy is a beautiful model with an outstanding hind leg. His pedigree combines the best of German and Dutch breeding with the sensational cross of Sir Donnerhall / Don Schufro on the bottom line.
Glenmorangie is a son of the great GLAMOURDALE , the sensational 7yo World 2018 Champion stallion ridden by Britain's Lottie Fry. He was awarded the honour of KWPN stallion of the year in 2020
GLAMOURDALE is famed for his canter and uphill way of going and this boy has inherited great movement from his father along with a huge self confident character.  In fact we have found all our Glamourdale foals to be delightful and talented. This boy is a beautiful model with an outstanding hind leg.
Lord Leatherdale
Thuja
Sir Donnerhall
Donner Dancing
Lord Loxley
Fairless P
Negro
Jasmijn
Sandro Hit
Contenance D
Don Schufro
Florentyna
.His mother SCARLETT is very  interesting from a breeding point of view. She is such a talented mare but interestingly her breeding is SIR DONNERHALL /DON SCHUFRO.  This is the much admired  bottom line of the pedigree's of Fascine, For Romance I and II, Feinrich and Total US.
SIR DONNERHALL is gaining an impressive reputation as an incredible brood mare sire.
Glenmorangie's grandmother  DONNER DANCING is a daughter of the famous BLUE HORS DON SCHUFRO, a competition and breeding legend.
Don Schufro needs little introduction but his achievements are second to none. He is a living legend who  provides top results. His offspring are renowned for fantastic trainability and a superb hind leg. He is the sire of Weihegold, the current world number one, who was winner of Rio Olympic team gold and the individual silver medals. Ten years in a row Don Schufro has ranked No. 1 in the breeding value estimation in Germany.
Glamourdale was champion of the 2014 KWPN Stallion Licensing and scored 85.5 points in his stallion performance test.
Under Charlotte Fry he won the 2018 World Young Horse Championships for 7-year olds in Ermelo. In 2019 he dazzled at international small tour level, recording wins at the CDIO Aachen. In 2020 he made the transition to national Grand Prix level.
The foal report describes this lovely colt very well of Glamourdale and he is a worthy son of this great stallion.
Foal report
Glamourdale showed a uniform collection of well-developed, long-lined and appealing foals who have a good dressage model. The walk has good scope. The trot is uphill, has good scope and elasticity. The foals trot with an appealing forehand. The canter is powerful, has good scope and elasticity.
https://www.vanolsthorses.com/paarden/glamourdale-3/?lang=en