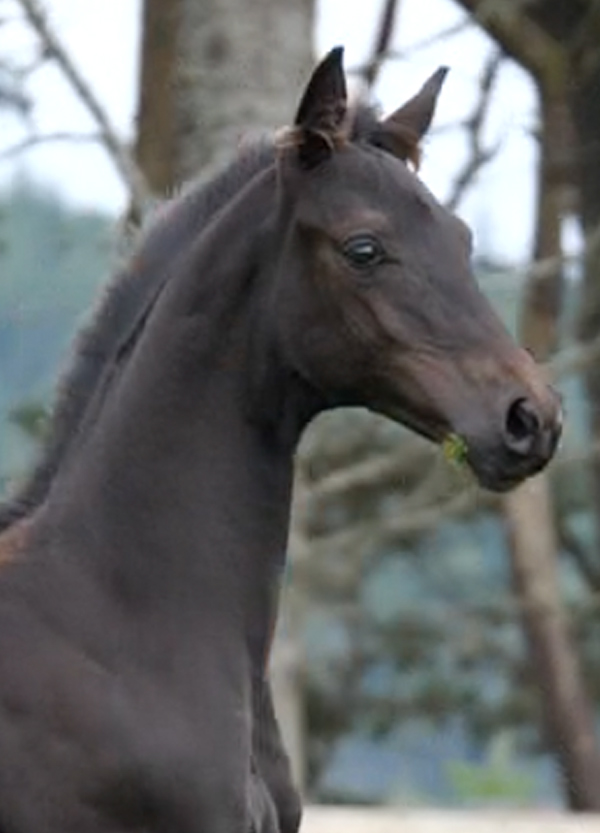 Glenfiddich Caledonia
2021
Colt
Glamourdale - Don Schufro - Friedensherr
Black
Oldenburg
---
This star is by the sensational 7yo World 2018 Champion stallion GLAMOURDALE ridden by Britain's Lottie Fry.
His pedigree combines the best of German and Dutch breeding.
His sire is famed for his canter and uphill way of going and this boy has inherited great movement from his father along with a huge self confident character and, indeed, a sense of humour. He is an absolute delight. Infact we have found all our Glamourdale foals to be delightful and talented.
Lord Leatherdale
Thuja
Don Schufro
Florentyna
Lord Loxley I
Fairless P
Negro
Jasmijn
Donnerhall
Fiesta
Friedensherr
Palacegate Lady XX
GLAMOURDALE  the 2018 "sovereign" FEI World Champion of 7-year-old dressage horses who  was the undisputed champion of the 2014 Stallion Inspection, the Reserve Champion of the 2014 KWPN performance test.
Glamourdale is beautiful, Glamourdale is impressive, Glamourdale is superbly bred, Glamourdale is extremely talented, Glamourdale is complete, Glamourdale: "he's got it all".  Glamourdale is a son of the "producer of champions" Lord Leatherdale, out of the preferent prok mare Thuja (s. Negro), one of the best brood mares in the Netherlands.
His KWPN Inspection report says so much for his quality and charm.
Glamourdale is an honest and reliable stallion with a very good temperament. The stallion has a great willingness to work and is very easy to work with. The walk is clear-cut and has good scope. The trot has good scope with an abundance of balance. The canter is uphill, very powerful and with very good scope. Glamourdale moves with good to very good elasticity, self-carriage and balance. Glamourdale is talented to very talented as a dressage horse and gives his rider a very good feeling.
Glamourdale in 2021 has burst onto the scene of international Grand Prixs with extraordinary score and showing great talent.
DONNER DANCING is a precious daughter of the famous BLUE HORS DON SCHUFRO, a competition and breeding legend. She is one of three DON SCHUFRO daughters bred and owned by Caledonia.
DON SCHUFRO needs little introduction but his achievements are second to none. He is a living legend who provides top results. His offspring are renowned for fantastic trainability and a superb hind leg. He is the sire of Weihegold, the current world number one who was winner of Rio Olympic team gold and the individual silver medals. Ten years in a row Don Schufro has ranked No. 1 in the breeding value estimation in Germany.
Her Grandsire, FRIEDENSHERR, is by WANDERER, giving this mare the same sought after click of DON SCHUFRO and WANDERER as World Young Horse Champion UNA DONNA UNIQUE and many others.
DONNER DANCING is a ¾ sister to DON CALEDONIA, a double national champion who went to Grand Prix with his international rider Hannah Biggs.
Dancing's much admired daughter, Sugar Plum Fairy (Sir Donnerhall).