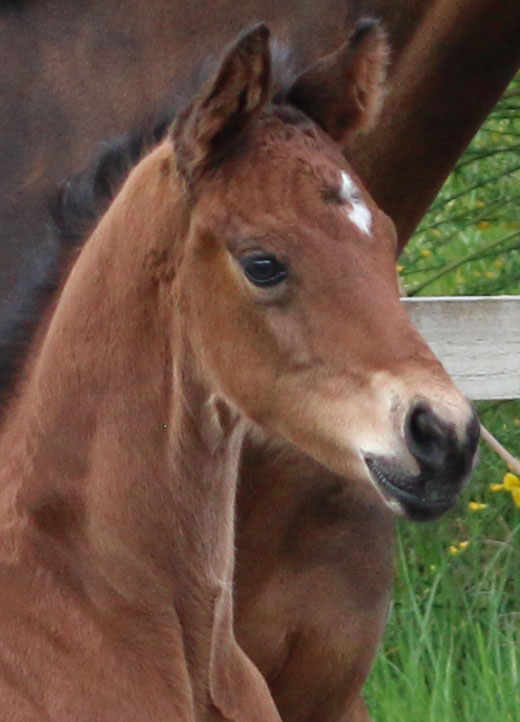 Gallant Caledonia
2020
Colt
Glamourdale - Sezuan - Sandro Hit
Bay
Oldenburg
---
A colt with a pedigree littered with WORLD CHAMPIONS.
GLAMOURDALE 2018 7 yo WORLD CHAMPION
SEZUAN TRIPLE WORLD CHAMPION  2014 2015 2016
SANDRO HIT 6yo WORLD CHAMPION 1999
LOVE SONG, his grandmother, is a daughter and sister of Rastede Champions from the famous LOVE STORY family.
Lord Leatherdale
Thuja
Sezuan 
Lord Loxley I
Fairless P
Negro
Jasmijn
Blue Hors Zack
Boegegaardens Don Romina
Sandro Hit
St.Pr.St Love Story II
By Glamourdale  the 2018 "sovereign" FEI World Champion of 7-year-old dressage horses who  was the undisputed champion of the 2014 Stallion Inspection, the Reserve Champion of the 2014 KWPN performance test.
Glamourdale is beautiful, Glamourdale is impressive, Glamourdale is superbly bred, Glamourdale is extremely talented, Glamourdale is complete, Glamourdale: "he's got it all". Glamourdale is a son of the "producer of champions" Lord Leatherdale, out of the preferent prok mare Thuja (s. Negro), one of the best brood mares in the Netherlands.
The grand mother of this colt is a daughter of the Rastede Mare Champion Love Story II and sister to the Rastede Champion Mare Love Story V. The Love Story family has produced countless Champions, Elite and State Premium Mares, and Premium Stallions and wrote breeding history when she produced the Rastede Mare Show Champion, Love Story II (who later produced the Rastede Mare Show Champion, Love Story V). Numerous successful high level dressage horses have been born from this family. These include Dreamcatcher (who sold for 406,000 euro), La Piko S, Levantino H, Sir Diamond, Saturday, Rubin Extra, Feinbrand, Universal, Don Romantica, Froschkonig, Fürst Wilhelm, Decamerone ( sold for 380,000 euro), Sohn der Sonne,  Furst Wilhelm, Blue Hors Zee Me Blue, Lady Devinja, St.Pr.St. Lady's Flavia, St.Pr./El St. Lady's Nice, El.St. Lady Die, St.Pr/El.St. Lady Diva, Verb.Pr.St. Lady's Donna, Verb.Pr.St. Lady's Dame, St.Pr.St. Etoile and the list goes on.
His grandsire SEZUAN  achieved the unique record as a breeding stallion of winning the World Championships for young dressage horses three times in a row, at the age of five, six and seven. He then won international competitions up to Inter I and is now being prepared by Patrik Kittel/SWE for his first Grand Prix competitions. Previously, he had already made a name for himself as the absolute record winner of his stallion performance test (ten times 10.0), Danish Champion Stallion and Danish Dressage Horse Champion. He has produced almost 25 licensed stallions, including So Unique, Hanoverian stallion market top price, German Champion and World Champion of young dressage horses, Secret, Vice German Champion and Vice World Champion of young dressage horses, and Sam, Oldenburg premium stallion.