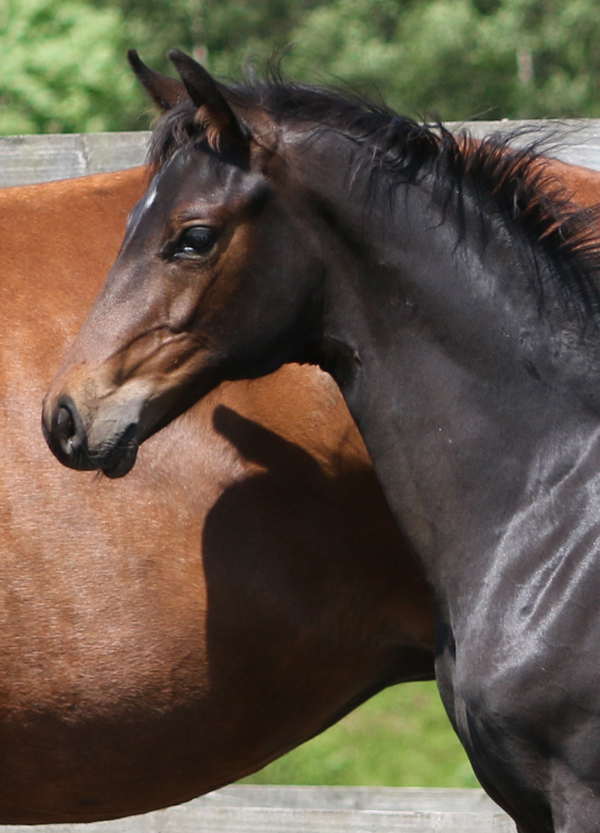 Flyte Caledonia
2021
Colt
Furstenball - Dacaprio - Wolkenstein II
Dark Brown
Oldenburg
---
FLYTE CALEDONIA is a stunning son of FURSTENBALL and a 100% blood brother to the impressive BLUE HORS FARRELL (FURSTENBALL) as their mothers are full sisters.
This is an elegant modern colt with an utterly world class pedigree.
This beautiful colt is everything we hoped for. He received from his father great beauty, elasticity, trainability and charm and from his mother height and power especially in the hind leg. Furstenball has produced magnificent stallion sons and this could be another one.
Fürst Heinrich
Maradonna
Dacaprio
Warina
Florestan I
Dawina
Donnerhall
Marella
Davignon I
Carry
Wolkenstein II
Argentina
His 2020 full brother FLINT CALEDONIA was an Oldenburg Elite foal and considered by the inspectors as a stallion prospect.
To find more information about Blue Hors Farrell please visit:
https://www.bluehors.com/en/stallions/blue-hors-farrell/?culture=en-US&page=0&sorting=collection
His sire FÜRSTENBALL has made a significant breeding career and stamps his offspring clearly with beautiful type and character.
DESIREE is a powerful tall mare and makes the perfect combination with Furstenball. We consider the foals of this combination to be world class. All the foals born to this combination of Furstenball with Desiree will be blood siblings to Blue Hors Farrell.
Dam sire DACAPRIO is known to pass on very handsome and rideable dressage horses. Dacaprio's daughter FBW Deja Vu, ridden by German Nadine Plaster, won the German federal championship for 4-year-olds in 2004 and claimed bronze at the FEI/WBFSH World Young Horse Championships in Verden in 2005 and came 4th in 2006.
Wolkenstein II is one of the best Weltmeyer son of all times and has sired more than 40 licensed sons and over 70 state premium mares. Wolkenstein II, won the German federal championship in 1993.
FLINT's dam line also produced the licensed stallions Wandervogel, Derano and our former stallion Blue Hors Future Cup. Furthermore, Scara Boa, the World Champion of the 5-year-old dressage horses in 2013 and the international dressage horses Winyamaro and Tric Trac originate from this dam line. Also the international Grand Prix horse Sil Jander (Vivien Niemann) is from this direct motherline.
FURSTENBALL What a stallion! Every single one of Fürstenball's performances at the Oldenburg licensing showed off his absolutely incredible willingness, strong nerves and relaxed temperament. Every single stride was uphill and his movements swung through his entire body. This wonderful champion stallion demonstrates three elegant and elastic basic paces and natural impulsion.
Sire, Fürst Heinrich, was the impressive 2003 winner of the World Championship of Five Year Old Dressage Horses, and he has produced many first-rate horses. He is high up on the FN breeding index with a score of 151. Maternal grandsire, Donnerhall, is without doubt an excellent stallion, and the dam's Tierce bloodline consistently produces successful horses, such as the champion stallion in Oldenburg in 2007, Sieger Hit, top-class broodmares and successful advanced level dressage horses. Fürstenball's dam, Maradonna, also produced an approved stallion by Dimaggio. This famous dam line, with dam, granddam and great-granddam being state premium mares with elite status, leads to the assumption that this stallion will pass on his outstanding genes to his offspring.