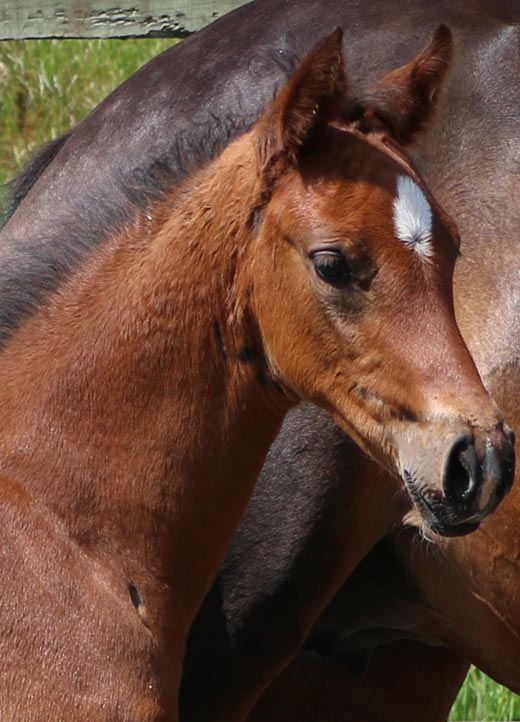 Flora Caledonia
2019
Filly
Foundation / Ampere / Donnerhall
Bay
Oldenburg
---
Flora is exquisitely bred and has unbelievable charisma. Her uphill, elastic paces and amazing presence means as she commands the arena when she is presented. This comes as no surprise given a pedigree littered with competition and breeding legends.
FLORA's mother, ODD MOLLY HT, is a daughter of  AMPERE and is out of the only full sister in the world to DAMON HILL. Her brother, NOTTING HILL HT, was selected to represent Sweden in the 2018 World Young Horse Championships and is the winning 6 yo in Sweden 2019.
Fidertanz
Donna Doria
Ampere
Donna
Fidermark
Reine Freude
De Vito
Weniga
Rousseau
Larivola
Donnerhall
Romanze
In his time, DAMON HILL was the greatest dressage stallion competing in the world, in his illustrious career. With his dancing partner, Helen Langehanenberg, his successes internationally are too numerous to mention. We are hugely honoured to have this incredible mare in our breeding programme.
While her motherline is extraordinary so is her father's.
We believe FOUNDATION to be one of the great dressage stallions of his generation and he is fast developing a dynasty of his own, as well as an outstanding record at competition with this rider Matthias Alexander Rath. Foundation is a large-framed, immensely powerful stallion who is incredibly supple with elastic, uphill, and ground covering paces. He is making a meteoric record in his first Grand Prixs and we are so excited to use this great stallion.
FLORA's full sister FLAVIA 2018 was sold to an international home.
Full sister to FLAVIA CALEDONIA (SOLD INTERNATIONALLY)
Half sister to VICE REGAL CALEDONIA and VIKING CALEDONIA(Sold to Ireland).