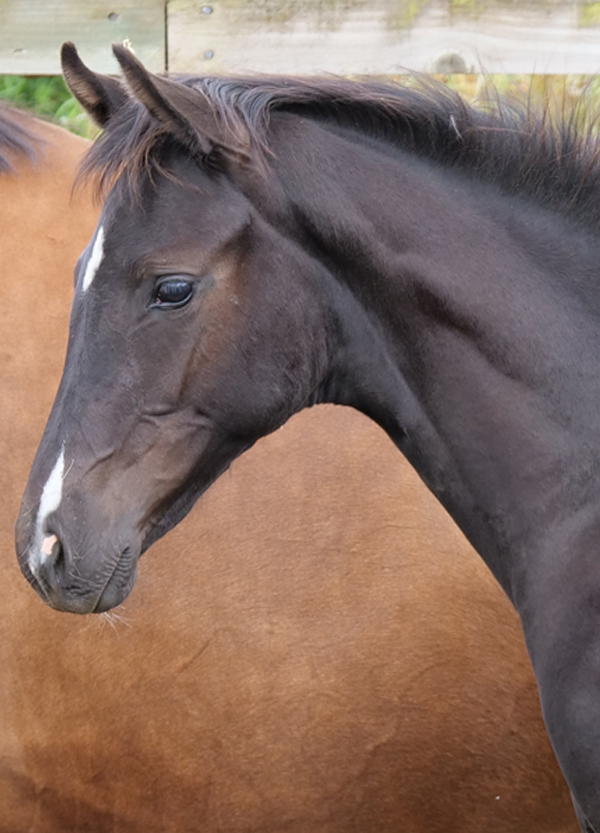 Flanagan Caledonia
2022
Colt
Franklin - Surprice - Werther
Black
British Hanoverian
---
A black beautiful colt who is elastic, athletic, trainable and charming.
We knew he would be a moving machine when we planned this pregnancy as he has a full sister SOFIA who was all of this and is now owned by a professional rider in USA. He is the sweetest, most charming boy who is interested in everything and everyone.
Ampere
Warkle M
Surprice
Waleska
Rousseau
Larivola
Ferro
Sparkle M
Sir Donnerhall
Pustblume
Werther
Wunchrose
FRANKLIN (Ampere / Ferro) needs little introduction as his foals are topping auctions all over Europe with unbelievable prices. He is taking the breeding world by storm and putting sensational movement into his offspring.
 Franklin is a beautiful, modern stallion who combines trainability with performance. He was described by the presiding committee at his licensing as an "honest, reliable and sensitive stallion who worked willingly for his rider". Franklin is incredibly uphill, with a hindleg showing abundant power, push and spring. He has a phenomenal, powerful canter, which he passes on to his offspring.  Franklin's offspring have inherited his spectacular gaits and great movement, with active hind legs and a strong top line.
His mother, SURPRISE CALEDONIA, is by the SIR DONNERHALL / PRINCE THATCH xx son SURPRICE. SURPRISE's mother, WALESKA, who carries the wonderful blood of the famous and influential WERTHER, was a full sister to the stallion WERTHER'S AS.
SURPRISE has proved herself as a remarkable broodmare breeding very much like a SIR DONNERHALL mare. All her foals have gone to professional riders or Grand prix riders including on to USA. She consistently produces foals of enormous quality and outstanding movement.
https://helgstranddressage.com/en/stallions/franklin/1469