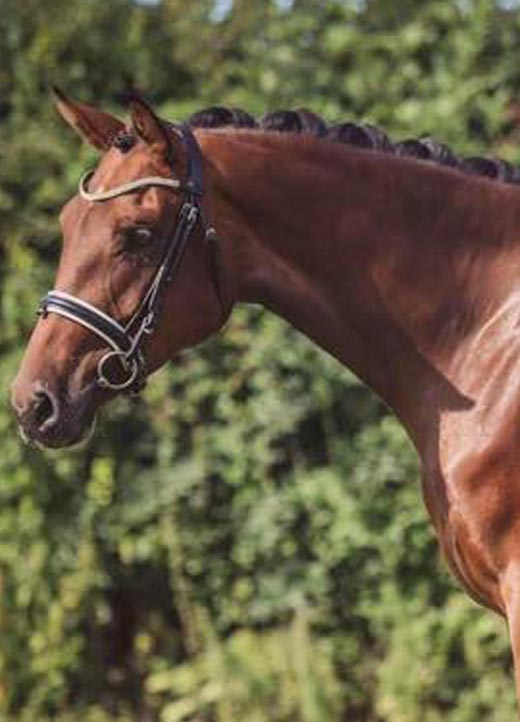 Fair Caledonia
2013
Mare
Furstenball - Don Schufro - Werther
Bay
Hannoverian
---
Our beautiful Fairy is by the famous stallion FURSTENBALL and out of DONNER DAYLIGHT whose father is BLUE HORS DON SCHUFRO, a competition and breeding legend.  We are very excited about this filly, who is everything we could hope for from  this world class pedigree.
Fairy has proven to be an outstanding brood mare and the quality of her foalsis breathtaking.
Furst Heinrich
Maradonna
Don Schufro
Waleska
Florestan I
Tolanda
Donnerhall
Marella
Donnerhall
Fiesta
Werther
Wunchrose
Fürstenball is a living legend. At every stage of his career, he has showed off his absolutely incredible willingness, strong nerves and relaxed temperament. Every single stride is uphill and his movements swing through his entire body. This wonderful champion stallion demonstrates three elegant and elastic basic paces and natural impulsion, all of which are passed on to his offspring. He was the outstanding winner of his 2009 performance test as well as champion stallion at the Oldenburger licensing in 2008, having sold for the record price of €110,000 as a foal at auction. He was regional and national champion of Germany,  winner of S level dressage classes, 2013 VTV stallion of the year, and number 1 of the FN breeding valuation throughout Germany in 2015. Fürstenball's offspring have been sensational. In 2016, he provided the champion and reserve champion stallion of the Oldenburg licensing, and he already has over 40 licensed sons, including Farrell, Follow Me, Finest, Fürsten-Look, For Cruise, and Fürst Fabrice . 14 of his sons have been awarded premiums, and he has 14 state premium daughters. His offspring are just like their sire; Incredibly beautiful models, active movers with a round, connected topline and excellent temperaments.
Don Schufro needs little introduction but his achievements are second to none. He is a living legend who  provides top results. His offspring are renowned for fantastic trainability and a superb hind leg. He is the sire of Weihegold, the current world number one who was winner of Rio Olympic team gold and the individual silver medals. Ten years in a row Don Schufro has ranked  No. 1 in the breeding value estimation in Germany.
Her grandmother, WALESKA, who carries the wonderful blood of the famous and influential stallion, WERTHER, was a full sister to the stallion WERTHER'S AS.  Fairy's mother's  Sir Donnerhall sister, Suilven, was mare Champion at the British Warmblood Breeder's show and on the Lottery Funded World Class training programme for horses with International Potential. She is training towards Grand Prix and showing great talent.
2023 –
In Foal to Morricone
2022-
Fable Caledonia (Furst Jazz) SOLD 
2021-
So Caledonia (So Perfect) SOLD
2020-
Glamorous Caledonia (Glamourdale) SOLD
2019-
Viva Caledonia (Valverde)ET SOLD
Fairytale Caledonia (Franklin) SOLD
2018-