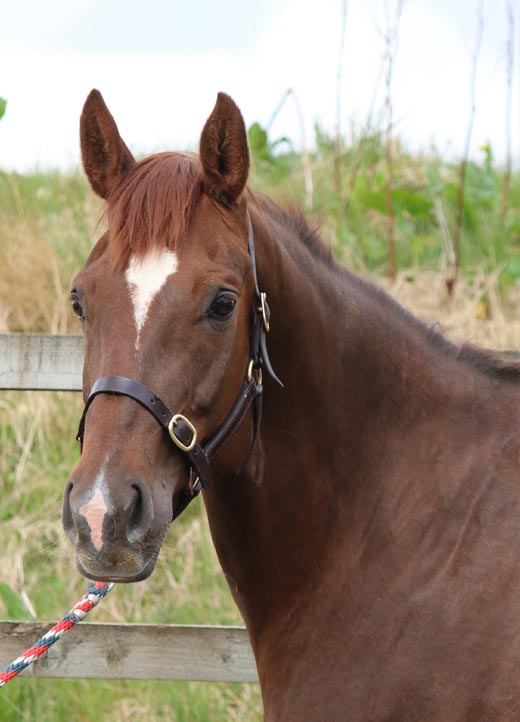 Donner Daylight
2004
Mare
Don Schufro - Werther - Waldmeister
Chestnut
Oldenburg
---
Donner Daylight is a precious daughter of the famous BLUE HORS DON SCHUFRO, a competition and breeding legend. She is one of three DON SCHUFRO daughters bred and owned by Caledonia.
Don Schufro needs little introduction but his achievements are second to none. He is a living legend who  provides top results. His offspring are renowned for fantastic trainability and a superb hind leg. He is the sire of Weihegold, the current world number one who was winner of Rio Olympic team gold and the individual silver medals. Ten years in a row Don Schufro has ranked  No. 1 in the breeding value estimation in Germany.
Donnerhall
Fiesta
Werther
Wunchrose
Donnerwetter
Ninette
Pik Pube I
Fabia
Wendekreis
Meisterkrone
Waldmeister
Waldmeister
Her mother, WALESKA, who carries the wonderful blood of the famous and influential stallion, WERTHER, was a full sister to the stallion WERTHER'S AS. A Sir Donnerhall sister, Suilven, was mare Champion at the British Warmblood Breeder's show and on the Lottery Funded World Class training programme for horses with International Potential.
2017 –
Donna Galaxy (Grand Galaxy Win) SOLD
2018 –
Formidable Caledonia (Franklin) SOLD
2019-
Finlay Caledonia (For Romance) FOR SALE
2020- 
In Foal to For Romance