Caledonia Dressage Horses can represent some of the best performance and breeding bloodlines in the world.
Caledonia Dressage Horses is located at Balblair Farm, nestled in a sheltered glen in the famous and beautiful Highlands of Scotland.
---
Balblair has been owned by the Campbell family for many generations where good stockman-ship has always been regarded as a matter of pride. Reay has a lifetime of horsemanship which has gone into developing this exclusive breeding programme.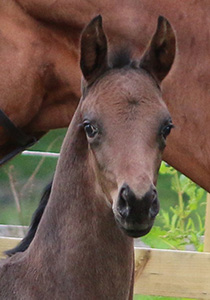 The bloodlines of the horses are chosen with great care from the very best of European breeding using a combination of both old successful lines with the newest and most exciting modern dressage horses. Our selected mares include some of the best mother-lines world wide are carefully matched to the greatest stallions using both chilled and frozen semen.
All mares are foaled at home and the foals are attentively managed from birth. They are handled quietly and firmly to produce polite, confident individuals who want to please and are willing to learn. The horses are handled in a way which maximises trust and confidence. Their mental wellbeing is paramount to us in creating horses for top competition.
We are constantly complimented on how happy and well adjusted our horses are. The horses grow up secure in our sheltered pastures with access to large barns in both summer and winter. They live in groups where they can graze and play, growing up in a stress free environment and behaving as horses are meant to. We are convinced, and research has shown, that this regular natural exercise produces strong muscles and tendons as well as a good attitude to life and work.
Caledonia is a small stud where the horses receive careful individual attention and where they are given the best possible start in life to prepare them for a great future. All horses receive specialist veterinary treatment, excellent regular farriery, bespoke balanced feeding and are wormed and vaccinated to a meticulous programme.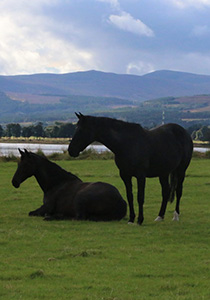 Our Horse are given the Best Possible Start in Life to prepare them for a Great Future.
---
We pride ourselves in our attention to detail and this programme is backed by a lifetime of expertise.
Specialist veterinary treatment
Bespoke balanced feeding
Regular meticulous worming and vaccination programme
Excellent regular farriery
Expert science based pasture management and home grown forage production
Don't just take our word for it…
Hear what our clients have to say about us
---
We moved quickly to make the purchase of our first top bred Caledonia foal, Flashdance Caledonia. Flashdance has the perfect walk, trot and canter and she is testament to Reay's top class breeding programme.
Caledonia Dressage horses have been a pleasure in all ways to deal with. Our foals arrived in excellent health, handled, wormed etc to enable us to build on that foundation. We couldn't be more pleased with them all.
We've bought 4 foals from Reay & the team at Caledonia over the last few years and each one is as spectacular as the last! It is clear what a wonderful start they've had in life and their lovely natures shine through every day. Their quality is just superb and we can't wait to see them grow into the top sports horses we know they'll be. Buying a foal from Caledonia is a stress free experience thanks to the wonderful team and visiting their beautiful base is spending a day in pony paradise!
Thank you Reay Campbell for the most wonderful two days up in the Highlands. What a magical place to live and breed horses! I can see why Archie grew up to have the best temperament, when he got a start in life like this. Just so idyllic and nurturing and raised by the most caring team! Foal shopping has never been so much fun and with such quality on offer, so difficult to make a decision. I want them all! 🥰
Call Us: +44(0)1863 766655